Tables

This is the last icon of the JustEdit toolbar.
This table 

button brings up a drop-down menu similar to those found in common word processing programs. When hovering over the insert table option, you can then hover over the number of desired columns and rows. When the value is correct, click on the last square (your cursor is hovered over that square) and the table will be created.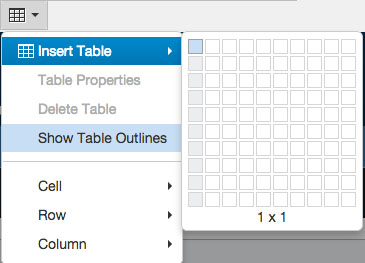 508 Rules for Tables
Tables should only be used for displaying data. Items such as directory listings and events listings are fine, since the have multiple columngs of data.  A table being used just to format content in a specific order is not accessible and could cause a screen reader to read important information out of order.
Next, a table must have defined table headers. To set table headers, simple highlight the row or column that describes what the data under it is, right click your mouse, select "Cell Properties," and choose "Header Cell" from the drop down.
Finally, a table must have an "aria-label."  To add this, you must go the the html code

for the section that your table is in. Once that dialog is opened, find your table.  It will look like this: <table> There may be other things after "table" in the tag, and you can ignore that.  Just put your curors after the word table, add a space, and type: aria-label="Title of your Table".