Service-Learning
Some courses include service-learning as a required or optional component. On this page you will find information on how to find a service-learning opportunity and register for it in CICE's registration system. 
As part of your service-learning course, you must:
Read your syllabus (important) and understand all instructions concerning service-learning.
Find a service-learning site:
a. Consult your instructor to determine if there is a pre-approved list of service-learning sites from which you are to choose. You must choose a site from this list if it is provided.
b. If there is no pre-approved list, it is your responsibility to find a community partner site where you will complete your hours, AND it is your responsibility to register following the CICE Service-Learning Registration Instructions.
Follow the CICE registration instructions (see video explainer below).
It is your responsibility to track your hours and have them confirmed by your service-learning supervisor. See the sample timesheet , or use one provided by your instructor.
Avoiding Scams: General Tips for Students
Although the Center for Internships & Community Engagement follows risk management-approved policies for reviewing academic internships and service-learning, we cannot guarantee that all placement situations are accurately represented in what the entity has posted. When seeking a placement site (in Titan Connection or other website), it is very important for you to educate yourself about potential scams. Here are some good tips that a position is probably fraudulent:
The promise of a large salary for very little work -- especially those that state thousands of dollars of income per month with little or no experience required.
Positions that ask you to give credit card or bank account numbers, or copies of personal documents.
Positions that ask you to send payment by wire service or courier.
Positions in which you are offered a large payment or reward in exchange for allowing the use of your bank account -- often for depositing checks or transferring money.
If you suspect a position is fraudulent, please contact the CICE office. If you believe you are the victim of fraud resulting from a job listing, please contact the local police as well.
Need Help?
If you have questions or concerns about service-learning or your site, please contact CICE. We are here to help!
Cal State Fullerton will not tolerate acts of discrimination or harassment based upon Protected Classes, or related retaliation against or by any employee or student. For information, contacts, complaints and procedures please see the Human Resources, Diversity and Inclusion Discrimination/Harassment site.

Service-Learning Resources
International Service-Learning
How colleges can open powerful educational experiences to everyone


(Chronicle of Higher Education 12Mar2017)
In this article about high impact practices (HIPs), Dr. Julián Jefferies and others at CSUF explain the transformational changes that benefit students who participate in service-learning and international experiential education. The concept of study abroad and other related experiences is not new, but intentionally including first generation and underrepresented college students is reaping rewards for participants as well as for the university.
Developing Worldly Students Through International Service Learning


(CSU Leader Mah 2017)
This article describes how CSU campuses partner with global communities to increase student engagement on campus and in the real world. Profiled in the article is Isis Quan, who participated in the Lange Tafel / Long Table to organize an oral history in Los Angeles in 2016 based on the model event in Berlin, LA's sister city.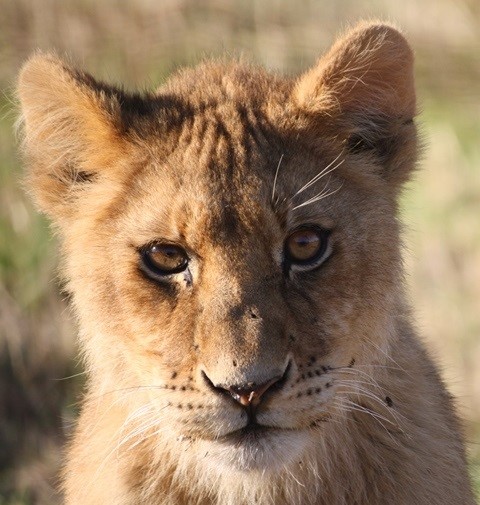 Kala the lion cub was adopted by Dr. Jarret Lovell's HUM 350 (Wild) Life & Culture in South Africa class after their visit to Drakenstein Lion Park sanctuary. Kala's food and vet expenses will get a boost for one year from all of the students who met her while studying social justice and environmental issues in summer 2017.  
2018 International Service-Learning Courses
Cambodia (Summer 2018): LBST 322
Denmark (Summer 2018): HUM 350, GEOG 355
Italy (Summer 2018): POSC 375
South Africa (Summer 2018): HUM 350, CRJU 385
2017 International Service-Learning Courses
SPRING 2018 Service-Learning
Fall 2017 Service-Learning
AMST 390 (17090 - 01)
ANTH 315 (17556 - 01)
ART 380 (10053 - 01)
ART 380 (10054 - 02)
ART 380 (10055 - 03)
CHIC 306 (16749 - 01)
COMM 464 (12937 - 01)
COMM 464 (12938 - 02)
COMM 464 (12939 - 03)
COMM 464 (13001 - 05)
COMM 464 (21782 - 06)
COMM 474 (12935 - 80)
COMM 474 (12936 - 81)
COMM 474 (20471 - 82)
HESC 494 (14206 - 01)
HESC 494 (14207 - 02)
HESC 494 (14208 - 03)
KNES 386 (14724 - 03)
KNES 387 (15160 - 01)
KNES 432 (14771 - 01)
MGMT 464 (11961 - 01)
SOCI 306 (16821 - 01)
TESL 509 (17554 - 01)
TESL 510 (16354 - 01)
Service-Learning Stories
CRJU 415 Policing the City


(Daily Titan February 2017)
ANTH 315 Culture and Nutrition: CSUF Students Help Foster Kids Grow Produce and Skills


(OC Register 12June2017)
HUM 350 (Wild) Life & Culture in South Africa


(campus news 10Oct2017)
ART 480 - 499 Walls that Unite holds art fundraiser at CSUF for Mexico's recent earthquake


(Daily Titan October 2, 2017)