Student Groups
SOCIETY FOR INDUSTRIAL AND APPLIED MATHEMATICS STUDENT CHAPTER
The Society for Industrial and Applied Mathematics (SIAM) is an internationally recognized organization designed to promote the application of mathematics and computational science to engineering, industry, science, and society. SIAM organizes regular conferences, outreach activities, journal publications, internships, fellowships, and networking opportunities. The purpose of the SIAM Student Chapter at CSUF is to provide opportunities for undergraduate and graduate students interested in applied mathematics to participate in a national organization, benefit from its wealth of resources, foster connections with members of industry, and explore opportunities for pursuing careers in applied mathematics. We will hold meetings to foster a community of students interested in applied mathematics and invite speakers to share their experience using mathematics in industry.
To get in contact with our SIAM Student Chapter please email Dr. Kristin Kurianski at kkurianski@fullerton.edu.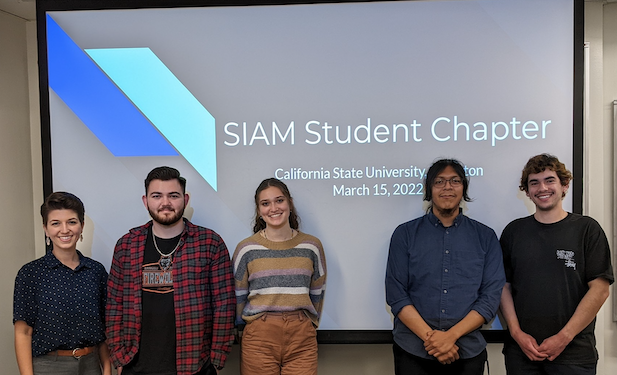 S.M.A.R.T. GIRLS
S.M.A.R.T. GIRLS stands for Sisters in Mathematics and Academic Relations in Teaching. It is an organization that is here to help you as a Math Major! So take advantage of it and join today!  
S.M.A.R.T. GIRLS was founded by four female students at California State University, Fullerton in 2006 as a study group. However, it became an official club on campus in the fall of 2008. Currently, women represent a minority in the field of mathematics. For this reason, it is important to provide women with as many resources as possible in order to ensure success in every way especially as math majors.
Club meetings include monthly business meetings and luncheons, so come and meet the S.M.A.R.T. GIRLS, get a bite to eat, and see what they are all about.  Look for their pink fliers in McCarthy Hall 154 for more information. Some of the goals of the club are 
meet new people
join study groups
network
attend math conferences
meet faculty
scholarships
find tutoring jobs
free food
have fun
get involved
In order to join, you must be a CSUF student, female (males may join as an associate member), and a math major. You may find out more at the official home page

.