MAMM Alliance Events
Erin McNally in Concert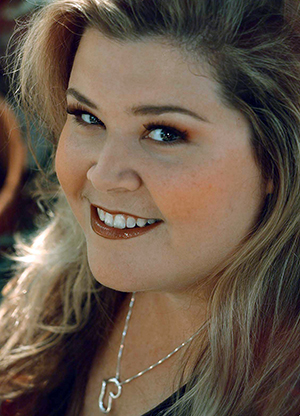 To Benefit CSUF Performing Arts Students
Saturday, June 23, 2018 at 7 pm
Meng Concert Hall
Reception immediately following: McCarty Grand Foyer
Joseph A. W. Clayes Performing Arts Center


Arts Drive (off State College Blvd.), Fullerton
Join us for an unforgettable evening of music with CSUF alumna Erin McNally. 
From standards and jazz to musical theatre and pop, Erin wraps her richly expressive voice
around an eclectic mix of tunes that is both sassy and soulful.
Tickets: $40 / $15 (Students)
For more information email Renée Gillespie or call (657) 278-8683
---
An accomplished vocalist and actor, Erin McNally has been engaging theatrical audiences for years. Armed with a B.A. in theatre arts from Cal State Fullerton, Erin has been a frequent crowd favorite at CSUF's Concert Under the Stars. She has been a guest artist for the LA Musical Theatre Guild, and has been seen in "Sweeney Todd" with Amanda McBroom and "On the Twentieth Century" with Joanna Gleeson. Favorite roles include Little Red in "Into the Woods" and Amy in "Company," as well as performing with such greats as Kristen Chenoweth, Kenny Loggins, Patty LuPone, and Sarah Brightman. A vocalist at the Hollywood Bowl for 13 years, Ms. McNally has been a featured soloist in "Showboat" with Alice Ripley and "The Movie Music of Woody Allen" with Ann Hampton Callaway. She is currently enjoying success as a concert and cabaret artist, having had four sold-out shows at the Cerritos Center for the Performing Arts, including her recent theatre-for-young-audiences concert "Do-Re-Mi, Sing and Dance With Me!" When not performing, Erin is an advocate for arts education, sharing her passion for acting and voice by teaching at Disneyland for Disney Performing Arts, Tri-School Theatre, St. Juliana School and South Coast Repertory, where she has also served as music director for numerous productions. She currently lives in La Mirada with her husband Jeffrey and her two dogs, Mr. Darcy and Mr. Bingley, who make everyday something to sing about.
Past Events



Come spend an inspiring afternoon with the talented performers who are this year's Senior BFA Musical Theatre Class.

A light, catered reception in the McCarty Grand Foyer and a meet-and-greet with the students will follow their performance.

The MAMM Alliance celebrated its tenth anniversary of raising financial support for the University's performing arts students with a gala brunch and retrospective, (October 30, 2016), honoring philanthropist, Mary Moore, with the prestigious Marcy Award presented by previous honoree, Maestro Carl St. Clair of Pacific Symphony. Students of the Theatre and Dance Department and School of Music entertained accompanied by Mitch Hanlon of the Musical Theatre faculty.
"A Humbug of an Afternoon with Mr. Scrooge" 
A rare conversation with South Coast Repertory founding member Hal Landon, Jr., who shares production secrets from his 37 years leading SCR's beloved A Christmas Carol.