About the Dance Program


Guest Artist Series
Dance Auditions
Awards and Achievements
What our alumni say about the Dance Program
In the News
Statement of Purpose: The  Bachelor of Arts in Dance is for students seeking a broad and rich background in both theory and practice.
The Bachelor of Arts in Dance is for students seeking a broad and rich background in both theory and practice. The degree is designed to foster the skills, understanding and discipline of young dance artists. The performance-based curriculum includes intensive training in ballet, modern/contemporary dance and dance composition; complemented by improvisation, dance history, kinesiology, pedagogy, jazz and diverse performance experiences. Our graduating students leave prepared technically and creatively to pursue work in dance and related areas.
---
  Our students have been invited to perform on numerous American College Dance Gala Concerts and honors at the Kennedy Center for the Performing Arts. The dance professionals who served as adjudicators have spoken highly of our performers saying the following:
"This quartet, set against a spacious and storied relationship to the music, engages the performers' delicacy, strength and presence in a breathtaking, swirling choreography. They were an amazingly sensitive group able to create huge emotional shifts. The dancing had a complexity and directness giving us a challenging message, both culturally and personally. Exactly what dance can do!"  - Elizabeth Johnson, Darrel Jones and Katiti King (2016)
"The dancers blew my mind!  They took the movement beyond the physical edge." - Zvi Gothenier (2014)
"Danced so beautifully! The dancers' ensemble performance came from deep within their own body giving each other focus." - Bebe Miller (2014)
"The dancing was achingly beautiful!" - Susan Douglas-Roberts (2014)
"Phenomenal! The dancers danced through the skin to the belly of the muscle and then through to the bone within." - Susan Hadley (2012)
"I loved how the dancers motions would affect the space. Their space seemed to have weight, their space had energy.  Really powerful!" 
James Sutton (2012)
"Excellent technical, clean and passionate performers." - Mary Carbonara (2010)
"Bold, confident, powerful dancing. Powerful classically grounded technique." - Bill Evans (2010)
"Mysteriously dramatic and beautifully danced." - Stephen Koester (2004)
"Brilliant performing by entire ensemble. They created a poetic resonance on stage." - Doug Elkins (2004)
---

California State University, Fullerton has been accredited by the National Association of Schools of Dance since 1982.
For more information:
National Association of Schools of Dance
11250 Roger Bacon Drive, Suite 21
Reston, VA  20190-5248
Email • NASD Website

In the News
Welcome to the Department of Theatre and Dance
• College of the Arts Contacts

---

A Message from the Department Chair
The faculty, staff, and administration in the Department of Theatre & Dance at California State University, Fullerton are fully committed to the health and well-being of every student in our program, as well as to the quality and outcomes of our instruction and curriculum. We believe that every one of our students is an important member of the Titan Family, and we strive to empower our them while also acting for the greater good of every citizen, regionally and nationally.
As we look forward to fall, the Department of Theatre & Dance is ready to meet the challenges this new semester may bring, and we remain committed to offering innovative academic solutions and unique co-curricular experiences for the Fall 2020 semester. Although many theatre and dance courses require students to interact and collaborate in close proximity, our faculty are working on creative and dynamic ways to engage learning on all platforms by incorporating new technologies into their curriculum while also being mindful of the potential need for continued social distancing practices in accordance with health and safety guidelines set by Governor Gavin Newsom and CSUF President Fram Virjee.
As Titans of the Arts, we know the importance of flexibility, creative thinking, entrepreneurialism and, above all, resiliency. We are all in this together, and we are 100% committed to you and your educational goals during this period of uncertainty. You are the actors, designers, performers, dancers, choreographers, and more who will shape the arts of tomorrow in ways we have yet to imagine. Move forward towards your future this fall and join us for a semester of possibility.
For the latest information and for specific announcements regarding curricular instruction, visit our   Theatre   and   Dance   websites often.
Sincerely,

Dave Mickey
Chair, Department of Theatre and Dance
In the News

Absence Project for Summer 2020
I invited my CSU, Fullerton students from last semester, plus some recent Dance Program graduates to join me in learning a solo, creating a video-dance and using that to engage with the community. The purpose of the project was to empower our CSU, Fullerton Dancers, and create a vehicle for them to engage in our art, share it, and help to bring positive changes to our world.  For the project, I choose Colin Connor's poignant solo Absence Is Never Far, which was first created during the AIDS epidemic.  These dancers and this work can remind us that each moment we share is precious. -- Debra Noble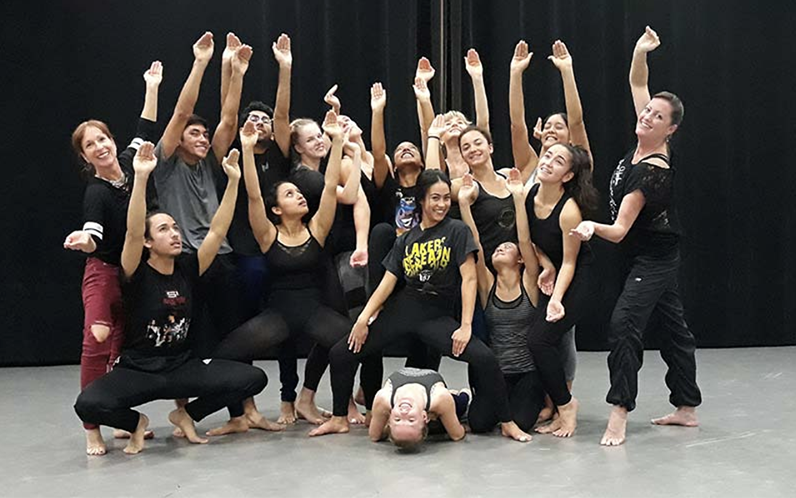 Graham Technique Leaps Into Spring Dance Theatre



  Halfway through a busy fall semester, Katie Munder and some of her fellow dance majors found a weeklong window in which to learn an energy-fueled piece with the help of Liberty Harris, rehearsal director for Dance Kaleidoscope.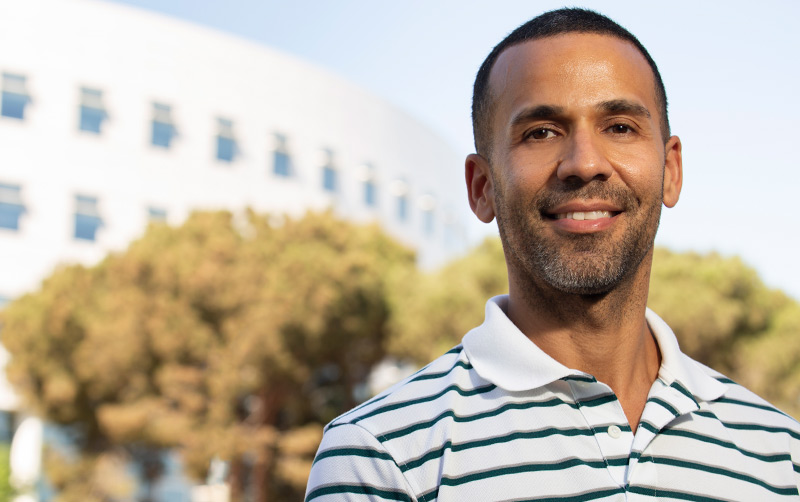 Associate Professor Shares His Journey from Aerospace to Choreography

Alvin Rangel-Alvarado, associate professor of dance, grew up in Puerto Rico and wanted to become an aerospace engineer.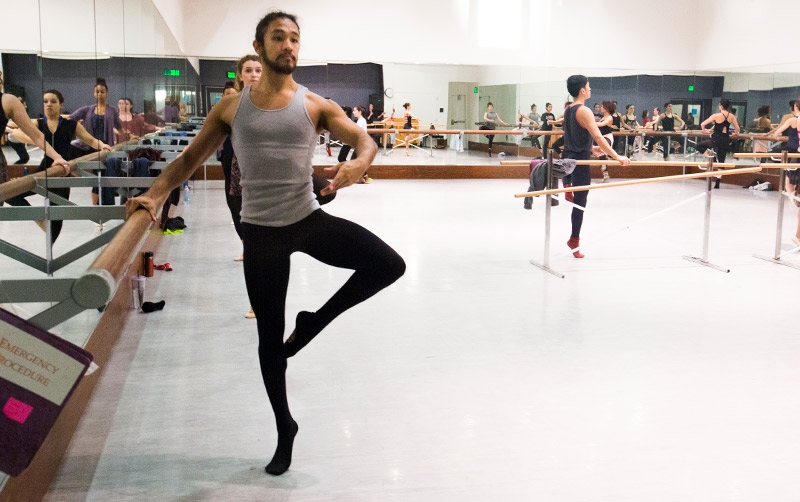 Why Introverts Make Great Dancers

Catie Robinson,  a dance major, recently wrote this article for Dance Magazine, on introverts in the dance industry.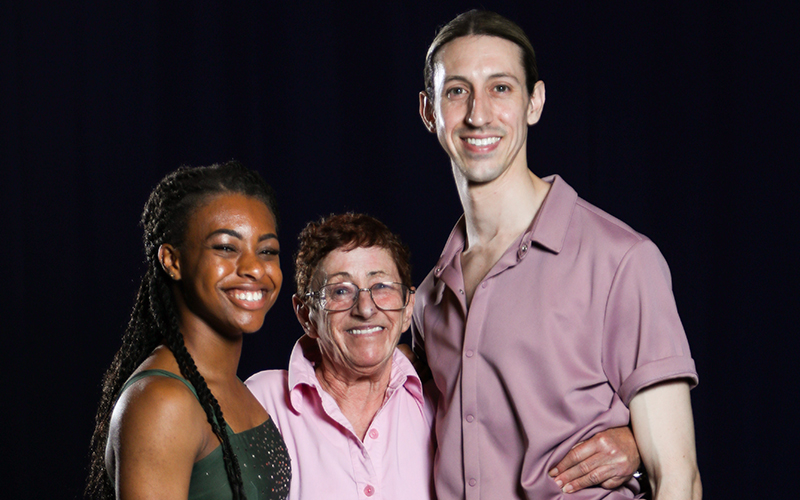 Inspiring Dancers for Decades: Galdys Kares Takes Her Last Curtain Call
at CSUF
Read the article here:
Front page



Continuation


Courtesy of the OC Register
---
Land Acknowledgement
The  Department of Theatre and Dance acknowledges our presence on the traditional, ancestral and unceded territory of the Gabrielino/Tongva Nation.
We pay our respects to the Indigenous land caretakers past, present, and emerging. For more information please visit the
Gabrielino-Tongva Tribe  website