Major Advising for Freshman and Transfer Students

Select your declared major below to learn more information about Fall 2020 semester course registration and major advising.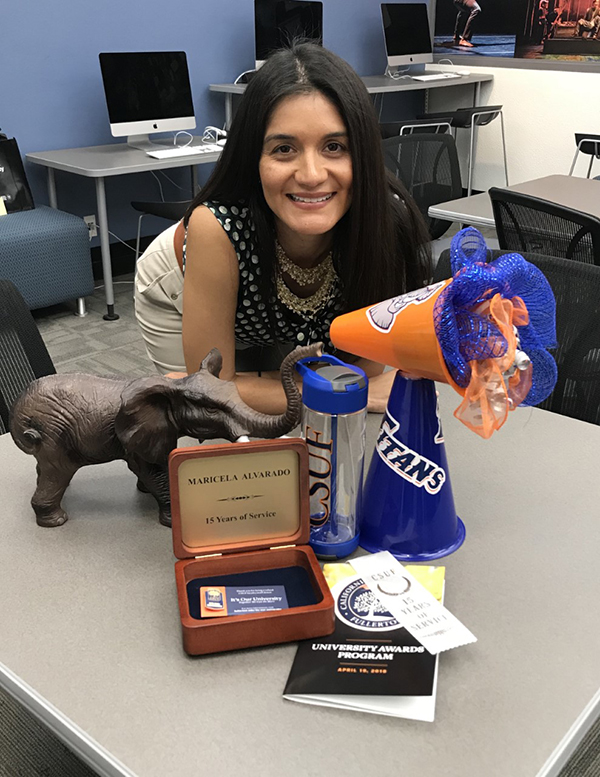 College of the Arts New Students,
I want to welcome you to the College of the Arts! You are about to begin one of the most exciting times in your life, and faculty and staff are here to support you through that journey. The health and well-being of the Titan Family is our top priority. Due to the current situation with COVID-19 and in accordance with campus protocol, all components of advising will be offered online or virtually. Although we would have loved to welcome you in person, we are committed to providing you a meaningful virtual experience. The virtual sessions will include advising, registration support, and opportunities to connect with student leaders. We know the transition via a virtual format can be confusing, but we are here to help. You are not alone! We want you to feel as prepared as possible, whether you are a new college student or a transfer student. Please take time to review the information and resources provided on this website to help you prepare for the fall 2020 semester at CSUF. 
Congratulations again on becoming a Titan!
Maricela Alvarado, MPA
Assistant Dean for Student Affairs
College of the Arts
Gender pronouns: She, her, hers
Optional Activities
Get Involved: Discover the Artist Community
There's an invitation with your name on it! Join the Arts Inter-Club Council (AICC) to learn how to get involved with the many clubs in the College of the Arts for Dance, Music, Theatre, and Visual Arts majors. Attend this session to learn how to join a club, create a club, and meet current student leaders as they share their experiences. AICC represents the diversity in the arts where you can become part of the family of the most artistic College!
Tuesday, July 28, 2020, at 2:00 pm
Follow us on Instagram:@csufaicc1
Facebook: CSUF Arts Inter-Club Council

---
Meet Your Career Specialist
This interactive session with the College of the Arts Career Specialist will allow new students (freshman and transfer students) to learn about the Career Center's virtual services and resources. Students will walk away with clear action steps toward their goals to find a job, internship, and other career-related plans. Join us and get personally acquainted with the Arts Career Specialist, Laura Neal.
Wednesday, July 22, 2020, at 1:00 pm
Follow me on Instagram: @artslneal

---
I am First. I am an Artist
The I am First session is designed for first-generation college students. First-generation college students are individuals whose parents have not completed a bachelor's degree. Students will have the opportunity to connect with other College of the Arts first-generation students, faculty, and staff. This program is in partnership with the Career Center. 
Overview
ZOOM Registration

Meeting ID: 953 1256 9769
Things I Wish I Had Known Before Starting College
ZOOM Registration

Meeting ID: 946 0078 4399
---
How to Join Zoom Meetings via Authentication?
For the safety and security of all participants, you must authenticate to Sign In to join a Zoom meeting. Please sign in at least 15 minutes before your scheduled Zoom meeting. The waiting room feature in Zoom will be used and you will be invited in by the host.  
Users can authenticate, when prompted to Sign In, using the following options:
CSUF Users  

 – Select SSO and Enter 'fullerton.zoom.us' and use your campus portal username and password

Visit the   

IT Zoom website      for more information on Zoom.

If you need help or have any questions, please contact the IT Help Desk at helpdesk@fullerton.edu or call (657) 278-7777. 
Additional Resources
Disability Support Services (DSS): Should you need accommodations during advising and registration and/or while at CSUF, DSS is available to support you and answer any questions or concerns that you may have during this time. DSS staff will be responding to emails and inquiries remotely and meeting with students via Zoom during their usual 8:00am – 5:00pm business hours.  Please visit their   website


for further details
International Students Services


 
International Student Services provides advising to international students on F or J status on immigration, personal, social, and cultural matters. Please visit the advising page to learn more about advising, including location and office hours, and to book an advising session if needed.
Veterans Resource Center


 
Veterans Resource Center provides comprehensive services to military-connected students that support personal, academic, and professional success.
Center for Careers in Teaching


Center for Careers in Teaching provides support to future teachers in any major. Your options are limitless, so the staff will guide you as you explore your interests and develop your skills to become an educator.