MAMM Foundation
The MAMM Foundation was founded on December 13, 2001, by a group of volunteer women to honor their friend, Marcy Arroues Mulville, a patron of the Arts in Orange County. In her lifetime, Mulville established, supported, and advanced over 26 nonprofit organizations. The first organization she founded was Music Associates at California State University, Fullerton.
The MAMM Foundation quickly became known for carrying on Mulville's legacy of supporting various nonprofit establishments throughout Orange County, which included the arts, science, education, and medicine.
In 2004, with a gift of $100,000 from the MAMM Foundation, the stage within the new Performing Arts Center at California State University, Fullerton, was named the Marcy Arroues Mulville Stage.
By 2006, through friend-raisers, teas, galas, and benefits, MAMM Foundation had raised more than $1,000,000 in cash and in-kind gifts in support of more than 35 nonprofit organizations throughout Orange County. This was largely accomplished by engaging other nonprofits to collaborate on many of the events.
The Foundation created the Marcy Award to honor outstanding community leaders and volunteers. Recipients of the Award were community leaders who most emulated Marcy's passion for and support of the enhancement of the quality of life in Orange County. Recipients of the Marcy Award include William J. McGarvey, Jr., Mary Muth, Dr. James Young, Anne Key, and Maestro Carl St.Clair.
The founding board members of the MAMM Foundation were Gail Cochran, Founding President, Irene McCormick, First Vice President, Pat Perkins, Second Vice President, Ann Harvey, Secretary, and Bobi Hirschbein, Treasurer.
With the desire to be active partners and participants of CSUF's new Performing Arts Center, today known as Joseph A.W. Clayes III Performing Arts Center, the MAMM Foundation shifted its focus solely to CSUF Performing Arts.
June 13, 2006 marked the transition of MAMM Foundation to an organization with a new and singular focus becoming the MAMM Alliance for the Performing Arts. The MAMM Foundation Board of Directors gifted the California State Fullerton Philanthropic Foundation (CSFPF) with a second $100,000 to create the MAMM Foundation Endowment in perpetuity.
In recognition of the Foundation's significant gifts, and its desire to become the sole support group for the new Performing Arts Center, CSUF President, Milton A. Gordon, designated the sixteen members of the MAMM Foundation exclusively as founders of the MAMM Alliance.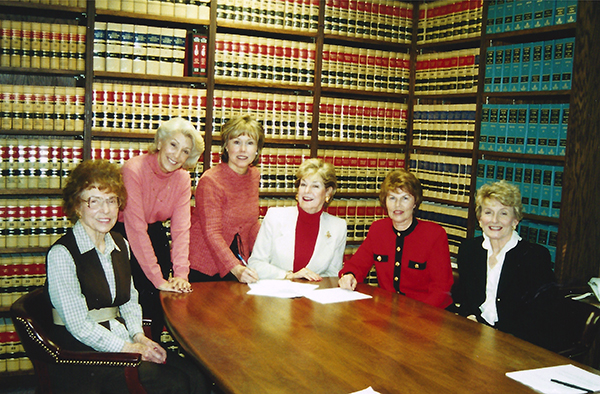 First MAMM Foundation Board members and meeting. From left to right are Honorary Board Member Josephine Arroues Voorhees (Marcy's sister), Bobi Hirschbein, Gail Cochran, Pat Perkins, Irene McCormick and Ann Harvey.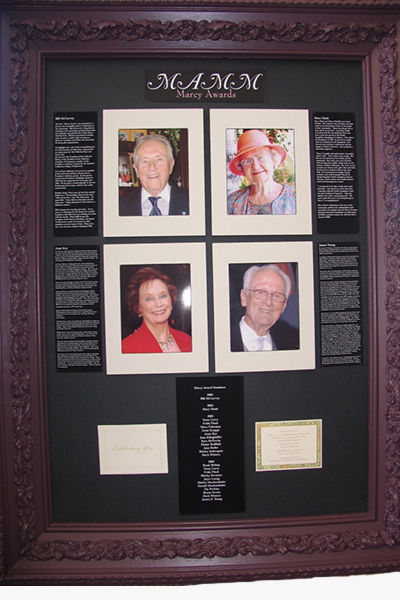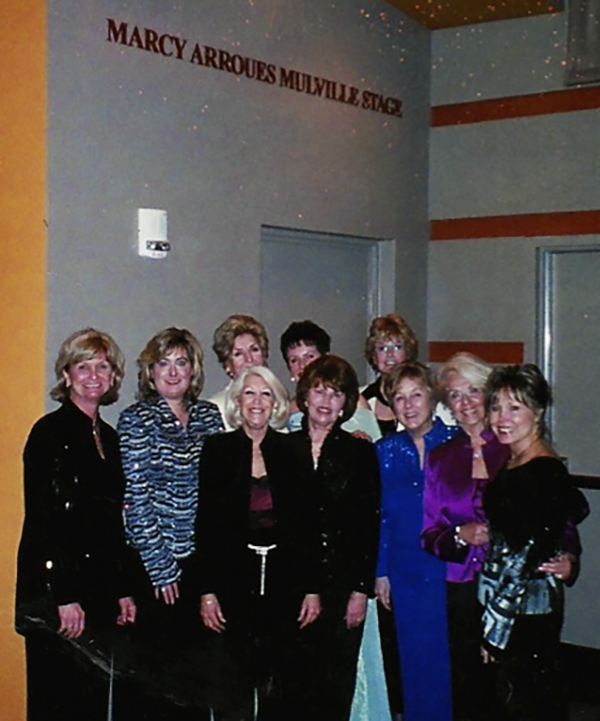 MAMM Foundation members proudly stand under the new signage for Marcy's Stage inside Meng Hall. Left to right front row: Barbara Gregory, Susan Katsaros, Bobi Hirschbein, Irene McCormick, Patty Anfinson, Eva Schnieder, Gail Cochran. Back row, Pat Perkins, Milly Heaton, and Kathy Allred.
Marcy Award winners pictured are: 
2003-William J. McGarvey
2004-Mary Muth
2005-Anne Key
2006-Dr. James D. Young
2007-Maestro Carl St.Clair (not pictured)