Clayes 10th Anniversary Community Open House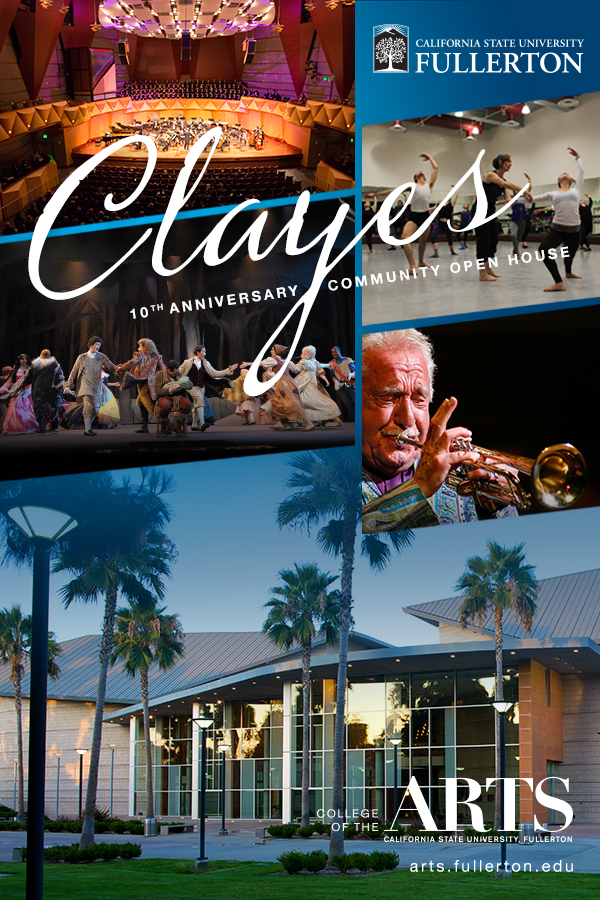 Sunday, November 6, 2016 • 2-6PM 
California State University, Fullerton
Joseph A.W. Clayes III Performing Arts Center
Dean Dale A. Merrill and the College of the Arts invite students, alumni, supporters and community members to come "behind the scenes" and discover what makes the Clayes Performing Arts Center an amazing resource for arts students and audience members. Step into a variety of performance and rehearsal spaces where students will be showcasing their talents, join a backstage tour that highlights students' work in our Scenic and Costume Shops, an art exhibition, refreshments, food trucksand more! See the schedule below!
This is an event you won't want to miss! Admission is $10 and includes a 4pm performance by the Fullerton Jazz Orchestra with guest artist Doc Severinsen and other invited guests including CSUF Theatre alumnus Marc Cherry.
This event has concluded
Schedule of Events
Scene from Pride & Prejudice
James D. Young Theatre
2:15pm, 2:45pm, 3:15pm

Scene from Drowsy Chaperone
Jerry Samuelson Musical Theatre Room
2:30pm & 3:00pm

A Conversation with Emeriti Chair of Theatre & Dance Susan Hallman
A conversation about the history of the Clayes Performing Arts Center, from A to Z.
William J. McGarvey Family Dance Studio
3:00pm – 3:45pm

Dance Presentation featuring dance students from the Department of Theatre & Dance
Selections from Fall Dance Theatre
2:15pm: William J. McGarvey Family Dance Studio

Cello Performance featuring students from the School of Music
Kathryn T. McCarty Grand Foyer
2:00pm – 3:30pm
"A View From Above" Canopy Tour
Guests will see what 5 tons of tuning looks like (aka "The Acoustic Canopy" that hangs in Meng Hall) from the unique perspective of the choir loft behind the stage.
Vaughncille Joseph Meng Hall (Upper Level entrance)
2:15pm – 3:00pm
Sound Design: An Evolution from Studio to Stage
A look into the process of creating and designing theatre production cues which begin in a recording studio and are completed on stage.
Douglas R. Young, Terry Forrest Young, and Megan Forrest Young Audio Studio     
2:00pm - 3:45pm
Throughout the afternoon…
Guided backstage tours will depart from McCarty Grand Foyer and will feature stops in the Lois M. Brockett Costume Shop and the Lee & Nicholas Begovich Scenic Laboratory
Exhibition of art by students in the Department of Visual Arts in the Millie and Dale Hallberg Theatre
Doors will open for the concert at 3:45 pm – general admission seating
Food Trucks (1pm-4pm)