ArtNews
What's new and notable in the Department of Visual Arts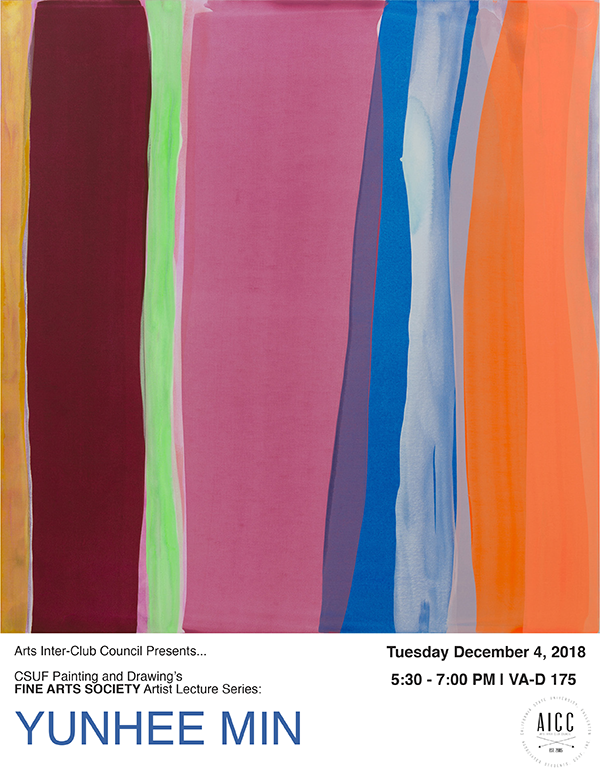 AICC & CSUF Drawing & Painting's FIne Arts Society
Artist Lecture Series Presents: Yunhee Min
Tuesday, February 5, 2019 • 5:30 - 7 pm
VA-D 175
About the artist:
Yunhee Min is an artist based in Los Angeles, and is an Associate Professor and Chair in the art department at UC Riverside. She has previously explored the cultural, social, and historical dimensions of the signification  of color in her work but is currently interested in the potentiality of color as pure sensation. To investigate these concerns, over the past two decades Min has moved between studio painting and large-scale, site-specific installations, creating works in a variety of media including painting, sculpture, and video. During her more than 20 years exhibiting nationally and internationally, her work has been featured in more than 30 solo exhibitions and site projects in galleries, museums, and non-commercial institutions. Min is also the founder of Silvershed, an artist-run space in New York City.
About her work: 
"My painting process involves various stages, some seemingly more pragmatic than others but all stages are vital in the end.
... I spend days just getting the colors ready. And they are often my favorite studio days before the actual application begins on the surface.
Often though not direct, I take my color studies as starting points. The color studies take varied forms from vertical bands to biomorphic pours on paper. They help me to select a group of colors to begin the painting. Once the application of paint begins the process of painting is very durational - kind of like cinema where time can be stretched beyond the actual time. So in a sense I am walking into the process without knowing how it might play out. It is an experience that takes time of looking and responding. And you hope to walk through unexpected places along the way, which can feel both exciting and unnerving. ..."
 from a 2016 interview with Dan Golden


(Left to Right) Noemi Barajas;  "Viva la Vida," Noemi Barajas
MFA Candidate in Drawing and Painting, Noemi Barajas, 
Will Represent  CSUF in  This Year's  Art Battle L.A.

 Competition
ArtBattle L.A.
L.A. City Finals: October 17, 2018
Live Competitive Painting
@ Exchange LA • 618 S. Spring Street
---
From the ArtBattle website: THE LOS ANGELES CITY FINALS ARE HERE! Come watch the paint fly as winning artists from events this season battle again with hopes of earning a spot at the National Championship this November here in LA! This is a wonderful evening of creativity and community, with an audience vote determining the winner who will represent the city against painters from all across the USA.
Art Battle® Los Angeles is proudly sponsored by Fredrix Artist Canvas

 & Artist & Craftsman Supply Downtown Los Angeles

!
From Noemi Barajas: "I began this journey this year with Art Battle by winning in February and once again in June in San Francisco. Now I'm in the city finals to compete for Nationals. Those winners will compete to go international. All art students are encouraged to apply."
Come and cheer Noemi on as she "battles" with other talented artists for the National title! Tickets available through  Eventbrite

. Use the promo code 'Noemi ' for discounted tickets!
Watch a video from Art Battle L.A.


Follow Noemi on Instagram


Noemi discusses her tattoo artwork


Noemi's tattoo website


Help Support the Ceramics Club!  
---
Join us for a 2-day sale to support the Ceramics Club! Ceramic cups, plates, vases, planters, and more will be on sale. Your friends and loved ones a unique,
one-of-a-kind present as special as they are !
Wednesday and Thursday, October 17,18
10 am – 4 pm 
Titan Walk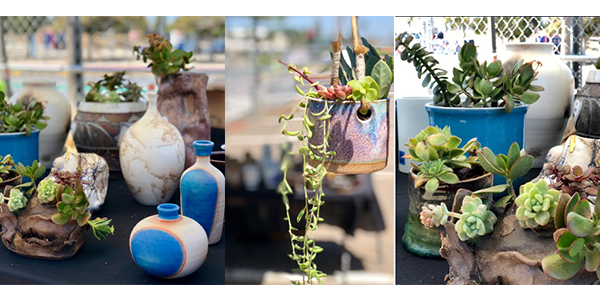 One Day Ceramics Club Sale
Thursday, September, 20 
Titan Walk •  10 am - 4 pm

---

Do you want to own original artwork? Do you have a birthday or special occasion and need to get a gift for that person who has everything? Then come on out to the One Day Ceramics Clus Sale! Purchase beautiful, one-of-a-kind, hand-crafted ceramics and support Ceramics Club students in the process - a win-win!