ArtNews
What's new and notable in the Department of Visual Arts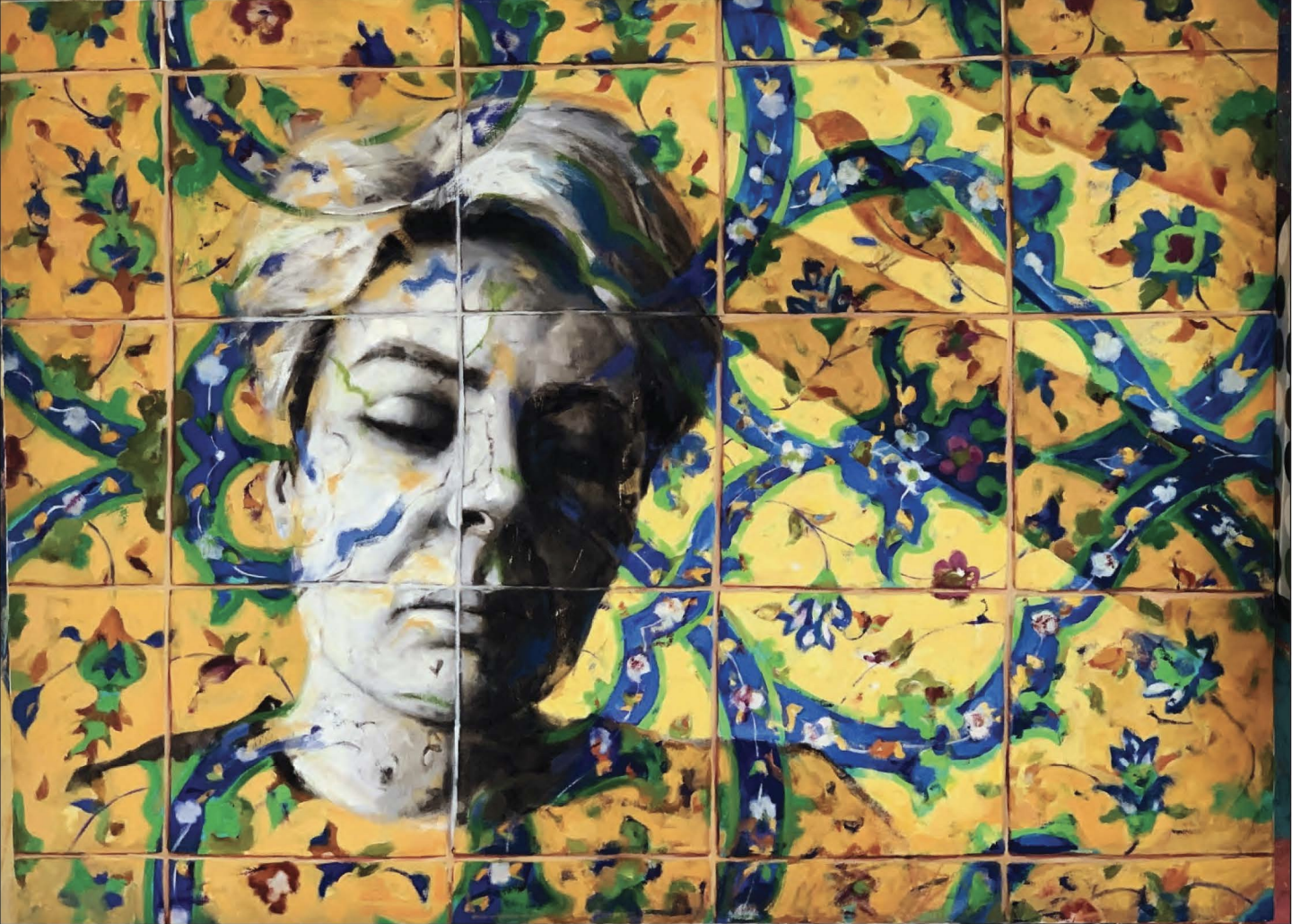 Mahtab Mohammadi, "Dreaming of Persian Garden #1." Courtesy of the Artist.
Iranian-Born Artist's Work Reflects on Painful Memories
MFA Graduate student in Drawing and Painting, Mahtab Mohammadi, has been working hard through the Covid crisis and received several honors. Recently, the Lancaster Museum of Art and Art History purchased her painting for their permanent collection (June 2022) and MOZAIC organization awarded her a $5,000.00 grant and included her work in a group exhibition (February 2022).
Born in Tehran, Iran, Mahtab Mohammadi paints from her lived experience as a woman raised in a male dominated society. These bitter and unforgettable memories of war and violence against women and gender minorities are transformed into colorful canvases filled edge-to-edge with Persian, Islamic, Western, and pop culture symbolism.
She did not initially set out to become an artist. In Iran, she studied chemistry at Islamic Azad University only later pursuing her art. By 2012, she and her family had immigrated to the U.S. where she began a new life as a full-time student studying English. After taking life drawing classes in community college, she soon discovered an affinity for the human form – an artistic subject previously off-limits to her in Iran.
Mohammadi describes the symbolism in her work in the following way:
"… I incorporated the cracked worn tile patterns with the idealized human body created by the genius artist [Michelangelo] who was brave enough to show his passion for the male body when homosexuality was an unforgivable sin. Additionally, I put it in the Persian context by painting it with Persian Green, the greenish bluish color which has originated from ancient Persia and is found in many forms of traditional Persian architecture, pottery, tiles, and paintings. Demonstrating that these contradictions are not valid anymore for the educated, wise, knowledgeable generation of today! …"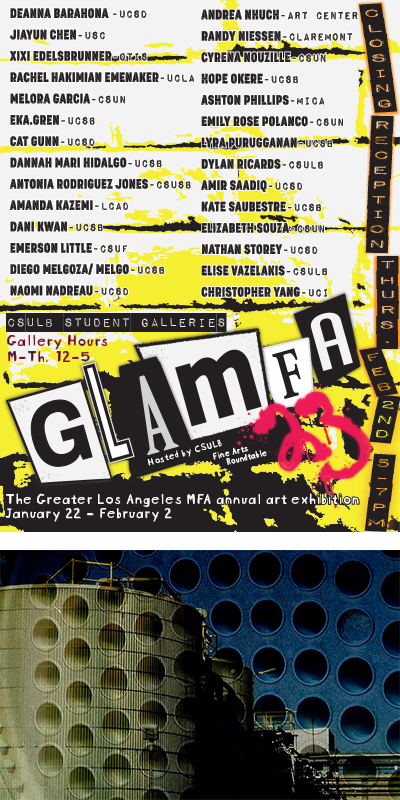 Creative Photo/ Experimental Media Major Lands Spot in the Greater L.A. M.F.A (GLAMFA) Art Exhibition

GLAMFA 2023
Monday-Thursday, January 22-February 2

Kleefeld Mini Gallery
 | CSULB
Closing Artists Reception | Thursday, February 2,  5-7 pm

The School of Art at Cal State Long Beach kicked off it's Spring Semester Student Exhibition Series with the 2023 showing of GLAMFA - the Greater LA MFA show. GLAMFA invites graduate student artists from schools all over Southern California to submit work; this year, our own Emeron Little – a Photography and Experimental Media major – was chosen! Selected artists are then invited to install their work and meet with the other selected artists to engage in interscholastic and interdisciplinary discussions. For more than a decade, CSULB MFA students have provided this curated show, exploring the most impactful and topical work taking place at the graduate student level in area art schools and institutions.
Follow @GLAMFA2023 on Instagram!


ABOUT EMERSON LITTLE'S WORK
 
Artist's Statement: Inspired and influenced by early 19th century industrial photography and the history of technological invention, De-Evolution is an experimental video exploring dying industries of the 20th century that have led to the climate change crisis in the 21st century. Raw photo-collage animation and moving images of dying oil wells, as well as cement, and asphalt manufacturing plants are superimposed on top of one another to examine how remnants of Orange County's past are alive in the present, demonstrating how quality of life within suburban environments can be deeply affected by the noise and air pollution of industry. Rusted gauges, metal latches, pulleys, beams, and wires – all common materials found in industrial machinery – merge in this manufactured nightmare, which serves as both a wake-up call and a stark warning.     
Old structures, such as dilapidated buildings, smokestacks, oil wells, and machinery left behind act as eerie reminders of a bygone era. The items seen here are ghosts inhabiting our contemporary world. With this video, I'm looking to showcase the decay and deterioration of industries, and how that impacts contemporary life. By recording what's hidden in plain view, I am demonstrating how remnants of factories and mechanical institutions have become so integrated into the cityscapes that people no longer notice them. Through this video, I'm revisiting early, forgotten machinery through the lens of the digital mirrorless camera.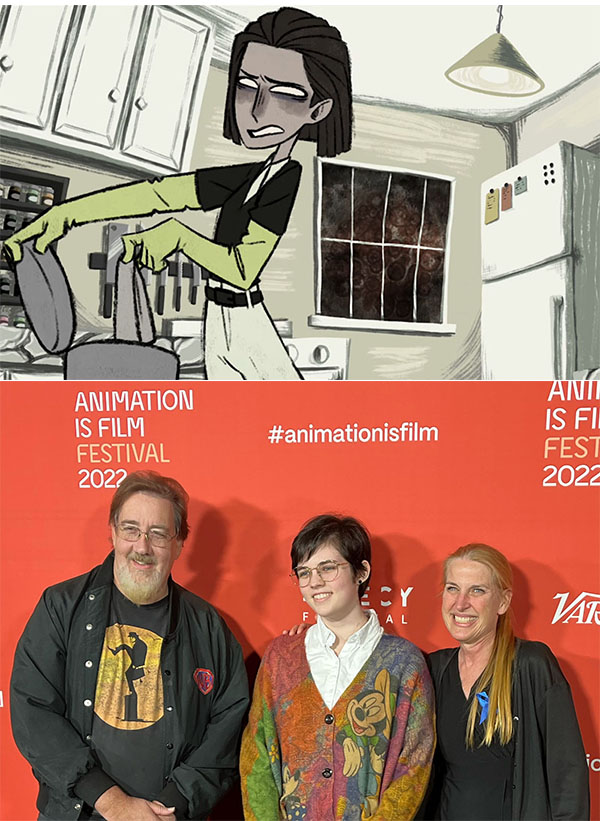 Top: still from 'Fester,' Rachel Salners; Bottom: Festival speaker Jim Richardson, student Rachel Salners, art faculty member Kathy Baur.  
Student Rachel Salners' Short Film "Fester" Screens at 2022 Animation is Film Festival 
This past October, CSUF Entertainment Art/Animation student Rachel Salners short film "Fester," based on the artist's struggle with Obsessive Compulsive Disorder (OCD), was accepted into and screened at the 2022 Animation is Film festival. Since 2017, the festival has promoted and showcased the films of animators from around the world who push boundaries in the medium and aim to exemplify the " highest aspirations of animation" in their work.
In addition to CSUF, other schools such as CalArts, USC, and Cal State Long Beach were also represented.
On her Youtube channel

, Entertainment Art/Animation student Rachel Salners offers viewers a preview of what they are in for when they watch her animated shorts, stating " I love all things creepy, crawly, and bizarre!" Her short film "Fester" is no exception.
In the film, we meet Ivory Finch, a young woman struggling to conquer the germs and rot she imagines are consuming her apartment. As she frantically rids her space of these rapidly multiplying, voracious, and anthropomorphic pests, she envisions them consuming her and her belongings. When a police officer arrives to perform a welfare check on Ivory, the audience sees her immaculately clean apartment... and the hand of her rotting body. It is a powerfully personal and dark take on the emotional and physical toll of OCD, a condition that affects an average of 2% of the U.S. population.
Watch "fester"

About the Animation is Film festival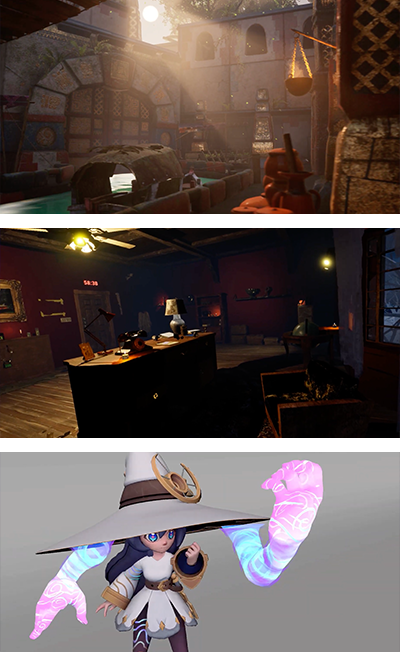 Students Honored for Computer Art at 11th Annual SIGGRAPH Exhibit
Students from the Computer Animation and Game Art area were accepted for the 7th year in a row to the SIGGRAPH 2022 11th Annual Faculty Submitted Student Work Exhibit in Vancouver, BC. (links below).
For almost half a century, SIGGRAPH and its community have collaborated to propel computer graphics and interactive techniques forward. Each year, the organization gathers the work of global innovators to showcase new technologies and applications.
Computer Animation and Game Art Prof. Carol Ashley will be joining the conference session entitled "Birds of a Feather" virtually on August 2 at 2 pm PST to discuss the projects, student work, and submission process.
Student work includes the "Deadringer" escape room trailer

; environment modeling by Alan Hernandez Lopez

; and game animation from Angela Nguyen

About SIGGRAPH
 
"Birds of a Feather" virtual session
          Images:  (top to bottom) Alan Hernndez Lopez, "Deadringer," and Angela Nguyen.
Graphic & Interactive Design Professor Awarded Virtual and Online Innovations
and Curricular Enhancements (VOICE) Awards
The College of the Arts and Department of Visual Arts congratulate Prof. Juan Manuel Escalante (Graphic & Interactive Design) on his two VOICE Awards in the categories of Inclusive Teaching and Student Engagement. VOICE showcases and celebrates faculty who have created innovative virtual and online learning experiences and recognizes both promising and experienced online educators.
During the 2020-2021 academic year, Escalante's students presented interactive apps (ART 483F, Design for Interactive Art) and created virtual environments (ART 483E, Computer Assisted Graphics) as part of their online coursework. Ranging from assistive apps focusing on providing Covid-related mental helath services and support to coding for interactive maps and gallery environments, Escalante's students brought their uplifting visions to life. You can see examples of their work in the highlight video at left and here

.
2021 VOICE Awards Committee: Gina Harmston, Kinesiology; Raelynne Hale, Modern Languages and Literatures; Kelly Ruppert, Geological Sciences; Laura Keisler, Literacy and Reading Education; Zia Salim, Geography and the Environment; Lucia Acala, Psychology; Yuko Okado, Psychology.
Visit the VOICE web page for more information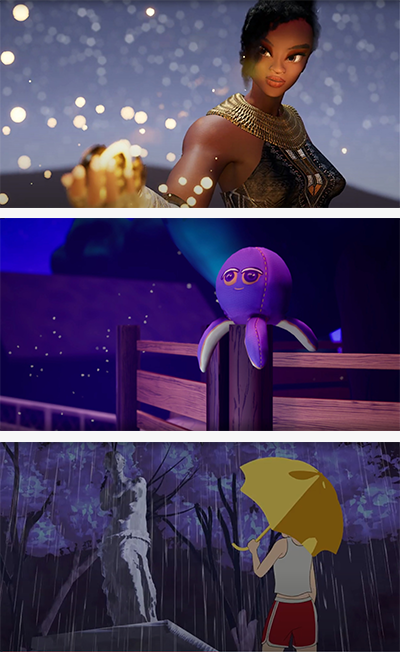 Images: (Top to bottom) SIGGRAPH 2021 participants Anisha Braganza, Kaleb Sweringen, Monica Willie
Students from New Visual Arts Concentration Represented in SIGGRAPH Virtual Exhibition
CSUF Visual Arts students are showcased in the 10th Annual ACM/SIGGRAPH Faculty Selected Student Work Exhibit, which is a virtual event this year. The double-currated exhibition includes work from classes in the new concentration, Computer Animation and Game Art taught by Associate Professor Carol Ashley and Associate Professor Andrew Fedak.  

"This work demonstrates a commitment to excellence by our students, who completed these assignments virtually during a global pandemic. " said Carol Ashley, who curated the submission for CSUF for a 6th year. "We celebrate these students' accomplishments but also recognize that all our students did outstanding work."
ACM/SIGGRAPH is a global organization that represents a diverse community dedicated to computer graphics and interactive techniques, which includes representation from the major animation and game studios such as Disney, Pixar, ILM and DreamWorks. This year the 2021 SIGGRAPH conference was scheduled to be in Los Angeles, but due to COVID19, was made virtual. Next year ACM/SIGGRAPH will be on ground in Vancouver, BC.  "We hope to have a much broader representation of student work in 2022, that will showcase other areas of study including, Graphic Design and Interactive Media, Creative Photography and Experimental Media, Computer Science, and the groundbreaking research collaboration in 3D visualization we have with Gravitational Waves Physics and Astronomy Center (GWPAC)," remarks Carol Ashley. CSUF students will have more opportunities to be involved in this organization through the new student chapter, CSUF ACM SIGGRAPH, which was chartered last month.  
SIGGRAPH 2021



10th Annual Faculty Submitted Student Work Exhibition



List of Students (in alphabetical order):
Sarah Arroyo, David Bergara, Jessica Bell, Anisha Braganza, Jordan Carias, Elija Daryaei, Amanda Estrada, Kayla Flores, Robert Gonzalez, Yajaira Gonzalez, Yvette Hernandez, Shiloh Hollister, Danh Huynh, Devin Lillemon, Ian Lundberg, Jake Martinez, Annyela Quesada, Sarah Santos, Kaleb Sweringen, Claire Swiatek, Margaret Tran, Alison Wheeler, Monica Wille, Brittney Wilson, and Gina Yi Chun Yeh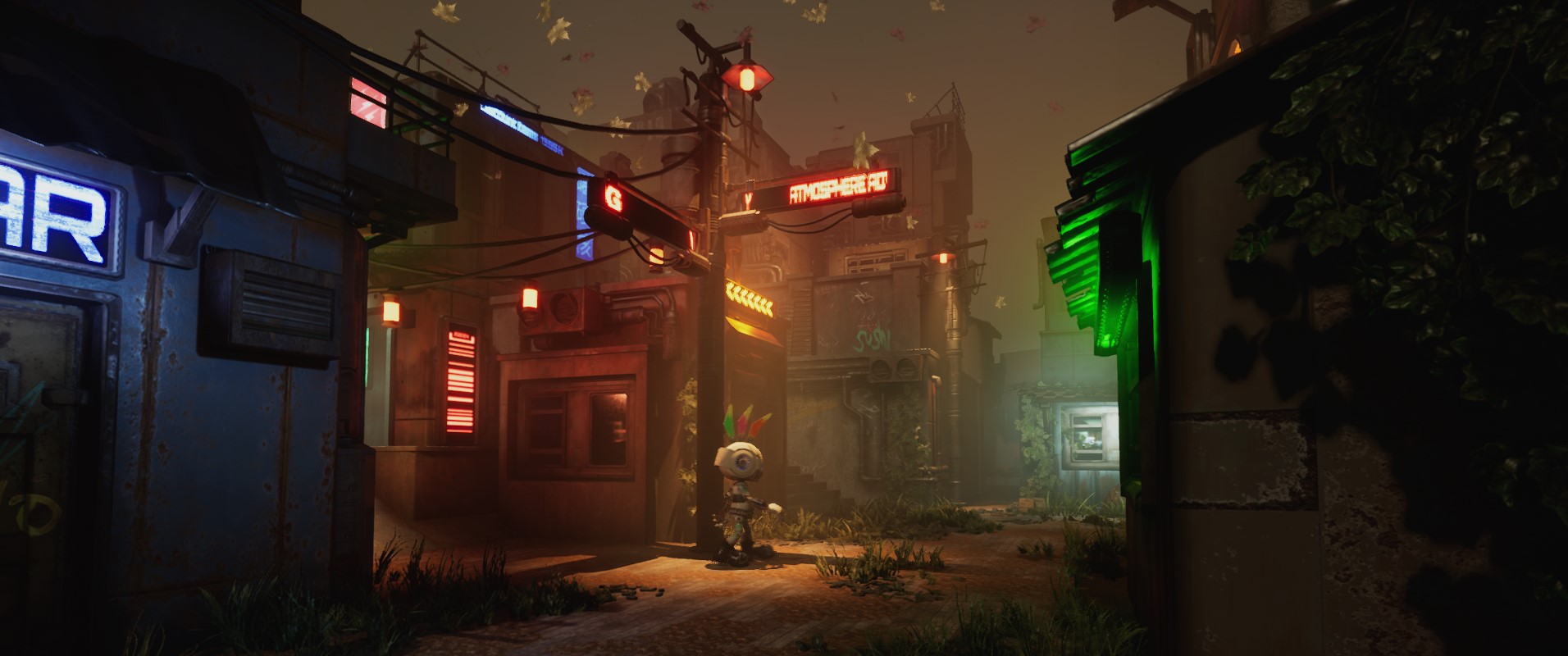 Art Professor Selected for Prestigious Animation Fellowship
Tenure-track professor from the Visual Arts department, Carol Ashley, recently completed a highly competitive fellowship by Epic Games, a leading game company behind the popular game, Fortnite, that has propelled their Unreal Engine technology in the groundbreaking real-time filmmaking process used on such productions as Disney/ILM's, The Mandalorian. 
Ashley, an Assistant Professor in animation, was selected for the Unreal Fellowship in Virtual Production from over 6,000 international applications from industry professionals in VFX and animation. The 5-week intensive fully online fellowship took its participants on a deep dive into Unreal Engine and Epic's workflow for the emerging field of real-time production being used in Hollywood.
In a 5-week period, fellows had to complete an extensive amount of online training then apply it to a short film of their own with the Epic theme "exploration." Fellows were responsible for writing and pitching their story concepts, then producing 2 to 3-minute shorts. Single-handedly, they created the environments, cinematography, animation and motion-capture, texturing and lighting. Each scene was compiled together in the Unreal 4.25 Sequencer, then rendered out as a final film with audio/music added in post-production.
"It was an intense and inspiring experience," said Ashley, "where we were trained by the folks at Epic who pioneered this process. We not only had to learn Unreal and many tools used in virtual production but make our own short film." Ashley said. "The fellows were mainly pulled from feature film VFX production, not the game industry, so most of us had little to no experience in Unreal Engine, including myself."
Prior to moving back to Orange County where she was born and grew up in Yorba Linda, attended Yorba Linda Middle School and Troy High, Professor Ashley had an extensive 20-year career in Hollywood, working on feature films at many of the major studios including Sony, Warner Bros, and DreamWorks.  
Some of the most challenging films I worked in were also time intensive. Said Ashley, the filmmaking often required the "VFX crews to work 20+ hours a day, sometimes through the night and into the next day." CSUF Alumni Kevin Costner's movie, Waterworld was one of those movies. "Kevin was concerned about the underwater scenes not looking realistic," Ashley recalls.  
"This was early on in computer generated VFX and compositing (Putting multiple layers of film together to look like one cohesive scene). "I was one of a handful of VFX artists in the industry who could composite scenes this complex at the time." said Ashley. "Kevin, who had just taken over as director, gave me 48 hours to prove that the underwater scenes could work."  I sat in a room by myself at Cinesite Hollywood, (the site of the old Kodak Building), and put together the shot of him scooping up the dirt at the bottom of the ocean. I did it in 24 hours." Ashley said, "Kevin was so pleased, I had to do the rest of the underwater sequence. I worked around the clock for 5 weeks to finish the sequence. It was this sort of intense and focused experience I had on Waterworld and other heavy VFX movies like The Hollow Man and The Matrix that gave me the foundation to do this fellowship many years later, though I am much older now!" laughs Ashley. 
As the new spring 2021 semester begins at CSUF, where students and faculty remain mostly virtual due to COVID-19, Assistant Professor Carol Ashley is eager to teach her newly acquired knowledge. She is also looking forward to the rollout of a new concentration she and her colleague, Associate Professor Andy Fedak created in the Visual Arts Department, the BFA in Art with a concentration in Computer Animation and Game Art (CAGA). 
"The Unreal Fellowship gave me an incredible experience that is reshaping my curriculum and research," said Ashley. "The timing couldn't be better, as the portfolio reviews for the first cohort of CAGA is happening in a few weeks; and in Fall 2021 these students will be on the leading edge of virtual production for animation," said Ashley. "I can't wait to begin sharing this knowledge with our students." 
The short films were released by Epic Games/Unreal Engine on December 3, 2020.  Assistant Professor Carol Ashley's film, called The Search, may be viewed here: https://vimeo.com/showcase/7819058/video/482083271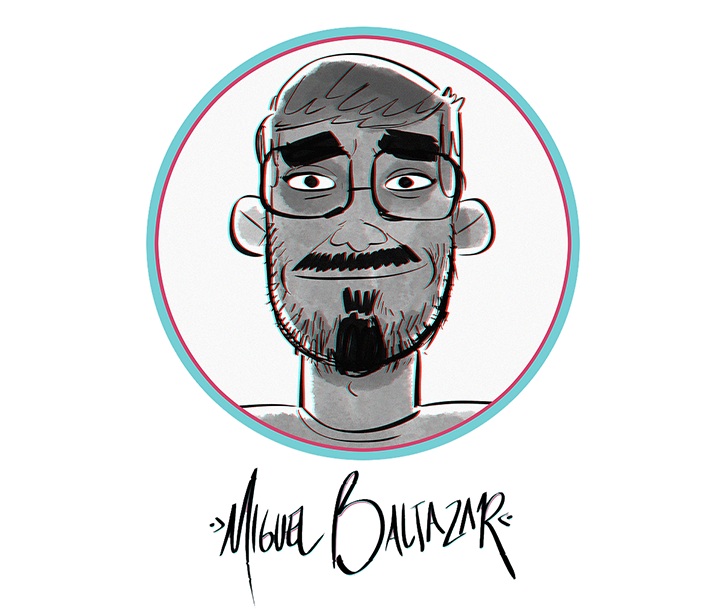 Baltazar Wants to Show That Animation is Not Just for Kids
Storyboard revisionist values reflecting his culture in his work
Orange County Register
By JILL HAMILTON

 | Contributing writer
Miguel Baltazar

graduated in 2018, but he's already a successful storyboard revisionist, working on shows like "Boss Baby: Back in Business" for DreamWorks Animation and currently on the forthcoming "Inside Job" for Netflix's new created animation department.
His love of animation started when he was 4 years old, growing up in Anaheim, and his parents, who had immigrated from Mexico, showed him the movie "Toy Story."
"My parents didn't really speak much English at the time, and they had to entertain me, so they showed me whatever VHS tapes they got from friends," says Baltazar. "I got lucky because they picked some of the best movies out there. Watching those animated films really inspired me to to go that route— my parents kind of unintentionally inspired me with the really high quality contact."
Art can be a tenuous career path, but Baltazar was not deterred.
"I have this insatiable love for for film and movies and and entertainment, and I felt like I needed to be a part of that," he said.
"That created this stubbornness in me. People were suggesting, 'Miguel,your grades are really good — you can do other stuff.' But I don't like doing other stuff. That's why I was super motivated to take that risk. I'm a hard worker. My parents work hard. That was something I knew was going to help me, putting in that work to get what I wanted."
His hard work paid off. In his last year at Cal State Fullerton, Baltazar worked an internship at DreamWorks and got a job there right out of college.
Storyboard revisionists like Baltazar are somewhat analogous to print editors. Once the storyboard artist create the storyboards for the script, the revisionists work with the director to enhance and fix the drawings.
"Especially in TV animation they have to draw very quickly so the drawings might be a little messy and rushed. So it's my job to go in with the director about ways we can clean up the episode and make it better," he says.
The work may involve setting up new compositions or creating new sequences or just tweaking and polishing. Right now he's doing all his work remotely because of the novel coronavirus.
In Baltazar's Instagram bio, he describes himself as a Chicano, comic, artist and storyteller. Listing Chicano first was deliberate.
"Being the child of two Mexican parents, I felt like it was an obligation for me not only to promote myself as an artist but my culture as well, so that people know where I stand and that I take my culture seriously," says Baltazar.
"It's something I did recently. Before I was neutral when it came to how I represented myself culturally and artistically, and I felt like it was time for me to blend those together."
He made the decision to speak out more about his culture while working as a tutor at the Gear Up program in his fourth year of college.
"I don't consider myself an activist, but a lot of my co-workers were really proud and vocal about their culture and heritage. I felt kind of ashamed that I wasn't doing that much sooner. I felt like I had an obligation to do that because in animation and art in general our culture isn't really represented as much, so I had a really neat position to to be able to open that up and have that conversation with other artists."
To that end, Baltazar was recently a panelist at the 4th Annual CSUF's Male Youth Empowerment Conference. Baltazar spoke of fighting imposter syndrome in college, the feeling that he didn't belong.
"I want to tell stories that relate to Mexican Americans and other minorities through animation," he told the assembled crowd of over 400 students from eight high schools in Compton, Santa Ana and Garden Grove. "There aren't that many people of color working there that speak to the community."
"It felt good helping," he says. "I wanted to give them a glimpse into a world they had never seen. I wanted to be honest about like what I do and debunk the myths of animation. It's world that's kind of trivialized as being just for kids or that not a lot of people can into.
"People assume that it's actors and movie stars that are the ones helming the industry, but really it's the hard working people that are behind the scenes who are making that stuff happen. I was in a good position to bring that into the light for them — it's not out of the realm of possibility."
He's also supporting Black Lives Matter through his art and offered to create personalized drawings for the first 15 people who donated to one of the organizations listed on his Instagram (miguelbaltazar_art).
"People are protesting, but I want to take care of myself because of the coronavirus so I decided 'Why not utilize my platform on Instagram and help out with that movement through my art?' " People took him up on it, and he is now dutifully working on these commissioned sketches. (Most wanted themselves with a family member.)
Baltazar is still young and it's early in his career, but eventually he hopes to become a show runner and creator. What would he like people to get out his work?
"I'm not going to shy away from stuff that can be emotional or heartfelt. I want to tell stories that are thoughtful, meaningful and profound," he says. "I'm someone who is very grateful for the opportunities that I've gotten in life, and I want my art to reflect that and hopefully give someone else the motivation and inspiration to work hard as well."
"We don't make just cartoons; we make stories that can bridge gaps and really explore and tell different stories. Especially as a Mexican American working in animation, I want to be able to make sure the cartoons that express more of our stories and inspire more people of color to enter animation."
You might also be interested in Baltazar's interview with Voyage L.A. magazine

.