Amanda Rose Villarreal
Theatre Education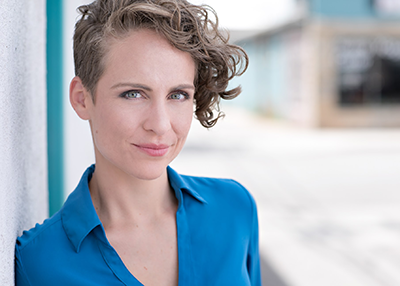 Contact
Location: CPAC 248
Phone: (657) 278 - 3863
Email:amvillarreal@fullerton.edu

Please contact the Theatre & Dance Department Office  (657-278 -3628) for current office hours
A scholar and artist, Amanda Rose Villarreal's work thrives in the intersections of theatre practice, pedagogy, and scholarship. Dr. Villarreal completed their PhD in Theatre and Performance Studies at University of Colorado Boulder, where they simultaneously earned graduate certification in Culture, Language, and Social Practice. Their dissertation, "Unscripted Intimacies:  Negotiating Consent in Gamified Performance" analyzes the ways in which intimacy choreography and game design can be used in tandem to support participants' physical, emotional, cultural, and personal boundaries within immersive performance and LARP (live action role play). She earned her Master's degree in Theatre Production from Central Washington University, designing, facilitating, and directing The One Voice Project – a devised project created with refugee youth – for their MA thesis project.
Dr. Villarreal is an award-winning theatre educator who has written theatre curriculum guides for multiple school districts. They have led middle and high school students in earning championship tropies in Texas's University Interscholastic League One-Act Play competition, and they have earned the Denver Shakespeare Festival's Spirit of Shakespeare Youth Direction Award twice. They have also facilitated teacher education in Washington, Colorado, Texas, and Oklahoma, introducing educators to consent-based theatre practices for elementary and secondary classrooms. She is passionate about interrogating inherited practices and spurring change, both in and through theatre education.
As an intimacy specialist, Amanda Rose uses consent-based practices and de-loaded communication to support directors' artistic visions while maintaining performers' boundaries. She is an Assistant Faculty with Theatrical Intimacy Education and serves as editor of the Journal of Consent-Based Performance, guiding emerging scholarship in the field of intimacy and consent-based practices. They have recently worked as an immersive intimacy specialist with Sinking Ship Productions in NYC, The Catamounts in Boulder, and Moonrise Games in Chicago. Their intimacy choreography has recently been featured by 3rd Act Theatre in Oklahoma City and Otherworld Theatre in Chicago. They also founded the Rocky Mountain Artists' Safety Alliance and developed the Colorado Theatre Standards, guidelines for leveling power imbalances and protecting participants within creative processes.
Amanda Rose's artistic experience spans a broad selection of immersive and devised work. They joined the 2018 cohort of resident devising artists at Toynbee Studios in London, crafting and performing in three performances. She directed It Happens Here, a devised project including interactive installations and immersive performances at four college campuses aiming to activate conversations about the impacts of kyriarchy-fueled interpersonal violence in educational institutions. They founded and directed the CU Playback Ensemble, which toured Colorado facilitating community dialogue through interactive performance, and they facilitated devising processes and directed the UndocuMonologues performance for the ACLU's 100th Anniversary tour. They also spent six years crafting and performing in LARP-based conflict intervention training for police, counselors, educators, and social workers throughout the states of Texas, Colorado, and Wyoming. They were the actor trainer and director for Virtue of Reality, the first immersive production to receive the Roe Green award at CU Boulder, where she also directed "She Kills Monsters: Virtual Realms," which was featured in the Region 7 Kennedy Center American College Theater Festival. She has also recently performed with Viral Ventures Immersive Entertainment in Denver and The TANK in New York City. 
Amanda Rose uses she or they series pronouns and is an avid nerd, dog lover, and LARPer.