Verne Wagner: President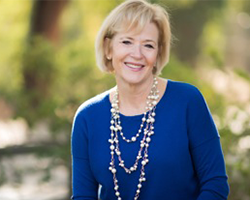 Verne Wagner has been a very involved alumnus of California State University, Fullerton (CSUF) for the past 25 years. She has also been very active in many activities in Fullerton. She moved to Fullerton with her young family 30 years ago which ended up being a very wise decision. Fullerton has been a wonderful place to raise her children and to watch her grandchildren grow as well.
As a young mom, Verne was a board member of the Junior Chapter of the Assistance League of Fullerton, board member of PTA , Girl Scouts troop leader, a board member of the Fullerton Chapter of National Charity League, and she has been on the bond oversight committee for the Fullerton High School District. Verne found her true passion when she was asked to sit on the President's Associates Committee that oversees the President's Scholars Program at CSUF. Verne is known around campus as the Scholar mom. She spends countless hours reading scholarship applications, interviewing potential scholarship candidates, mentoring students and hosting dinners and breakfasts at her home. Helping students obtain their dream of a college education has truly enriched Verne's life.
Verne has been involved in many committees and organizations on campus. She served as the Alumni Association President from 2009 to 2010. She has continued her involvement with the Alumni Association to this day and is now the Council Representative for CSUF.  Her past committee involvement has included the 50th Anniversary Committee, the founding board for Guardian Scholars, Women of Philanthropy, Coordinating Council, The Blue Ribbon Committee for Front and Center, and the committee for the opening of the Performing Arts Center. She has been honored with four volunteer of the year awards and selected as one of the University's Fifty Women of Distinction. In 2012 Verne was selected as a Vision and Visionaries Award recipient which is the highest award given to an alumni of CSUF. At a gala event she was serenaded by the talented students of CSUF's Performing Arts Department to the tune of New York, New York.
This past year Verne has been honored to be a model for St Jude's Hospital for the Walk Among the Stars fashion show. In March of this year, she was selected as an Ambassador for the Fullerton National Charity League Fashion show honoring her and seven NCL graduates for their continuing philanthropic work in our city.
Currently Verne sits on the MAMM Alliance board, however, this is not her first time working closely with "MAMM". She worked with the MAMM Foundation on their original fundraiser with Rodney Gilfry to name the Marcy Arroues Mulville Stage in the Clayes Performing Arts Center. Also, she was asked to decorate and host the CSUF table at the MAMM Foundation fundraising tea events for several years, which she enjoyed immensely. Last year, she completed a bucket list item to travel to New York City with MAMM Alliance for the annual senior showcase event. Verne loves being a Titan, her Titan family, and her Titan sports teams.
Judy Atwell & Jean Klinghoffer: First Vice Presidents – Membership & Board Development
Judy Atwell is a native Californian. Born and raised in Fontana, California, her childhood was somewhat unique. Her father and his two brothers purchased a considerable parcel of land and one of her uncles started a chicken ranch. They had separate houses but lived on the large parcel together. Basically, she lived between two chicken ranches so no matter which way the wind blew she knew where she was.
At the early age of four she began piano lessons. This was just the beginning of her love for music and the arts. The years that followed were filled with many concerts where she listened to the Los Angeles Philharmonic Orchestra perform and so much more. This filled the years from kindergarten through high school. During this time she continued piano lessons and also took up the flute. Judy was a proud member of the Sequoia Jr. High marching band, and then the Fontana High School band.
Her first job was during summer vacation when her uncle left on a trip and her and her cousins were given the task of feeding the chickens, collecting the eggs, doing the candling process and packaging for pickup. Judy remembers putting her jeans on over her pajamas and going to work when the sun came up. When they finished the morning feeding, and opened the cages they all went home for a little more shuteye. Although she doesn't remember how much money she earned, she sure remembers that summer as one that was special!
College brought other opportunities. Judy attended San Diego State University, where she majored in Sociology and ultimately acquired her teaching credential. She departed from SDSU for the fall semester of 1966 to attend a special program under the direction of Chapman University. The program at the time was called World Campus Afloat. What a fabulous experience, traveling the world learning and experiencing different cultures. Judy returned to SDSU and upon graduation, began a teaching career.
Judy taught elementary school in Chula Vista from 1969-1973. During this time she met her husband Alan and upon his graduation from SDSU they moved to Fullerton. They have called Fullerton home since that day. Moving to Fullerton brought a career change for Judy. She began a career in Real Estate Sales in 1980. Her first office was Atwater and Associates. The similarities in names brought about some confusion. Her Real Estate career took her to McGarvey Clark in 1990. She has recently joined the offices of Century 21 Discovery.
As a member of Christ Lutheran Church in Brea she has had the privilege of serving on the Board of Directors as the director of Women's Ministries, and on various committees. She also became involved with the Fullerton Family YMCA and served in various capacities with this community organization. She is a member of The Fullerton Rotary Club and serve on various committees.
Judy is looking forward to serving with the members of MAMM Alliance to enhance and enrich the learning experience of the young professionals that make up the Department of Theatre & Dance and the School of Music.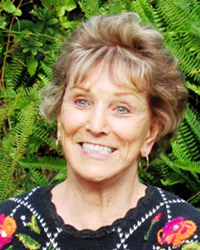 Jean Klinghoffer was born and educated in West Virginia. Her Bachelor in Science is from Concord University and she received her Master's in Science from West Virginia University. She taught high school and then taught at West Virginia University, where she met her husband, Bill.
From West Virginia, Jean came to California to teach students at the high school level, as well as classes for Pepperdine College, and some classes at California State University, Fullerton. She then became a school administrator as the Director of Alternative Education for about fifteen years. Jean then transitioned to being an education consultant, working in collaboration with the California State Department of Education. Visiting over 55 school districts in the state and writing district policies, as well as auditing for the State Finance Department.
Music has always been a part of Jean's life. She played the piano every Sunday for her church from 7th grade up until her high school graduation. The only problem was that she never knew what the songs would be, until she would get to church. Additionally, she hated playing sharps. Mrs. Spank, her piano teacher, taught her how to change sharps to flats as well as how to improvise. She never had any trouble on Sunday mornings after that lesson.
Jean was hired by the Concord Music Department to teach World War II Veterans how to read music. Most of the veterans were music majors but could only play by ear.
Jean has also served as a board member for Fullerton Civic Light Opera, Sonata, YWCA, Celeste, Music Associates of California State University, Fullerton, and Friends of Jazz.
Jean and her husband raised four children who were educated in Fullerton and also at the state colleges. She has both a daughter and granddaughter teaching Kindergarten, while a grandson is an ICE officer. Since retiring, the Klinghoffer's have traveled many places throughout the world and have enjoyed cooking, along with working in their yard. The Arts are not the only passion Jean holds. Swimming has always been another one of Jean's passions, which she still does to this day as well as trying to walk at least five days a week.
Jean received Volunteer of the year for City of Fullerton; Volunteer of the year for Music Associates at CSUF, West Virginia University scholarship winner and State of California leader in Education.
Joseph Arnold and Susan Hallman: Second Vice Presidents – Fundraising
VACANT: Third Vice President – Public Relations
Lee Gilbert: Fourth Vice President – Grants & Impact Measurement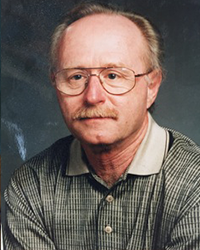 Lee Gilbert was born in Madison, Wisconsin and moved to Colorado during his freshman year in high school.  He attended the University of Colorado, where he completed the BA, MA and PhD degrees in Germanic Languages and Literatures. Lee came to Cal State Fullerton in 1970 as an Assistant Professor of German and served the university over a period of 38 years.  In the course of his career he served in a variety of positions including two terms as Chair of the Department of Foreign Languages and Literatures, Associate Dean in the College of Humanities and Social Sciences, as well as in several acting positions, including Director of the University Honors Program, Director of Freshman Programs, and Associate Vice President of Academic Programs.
The focus of his teaching was the intimate relationship between German Literature and the Performing Arts. Two graduate seminars in particular had this focus, one on German Revolutionary Drama and the other on German Literature and Music, in which students spent half the semester focusing on the German Art Song and the other half on German Opera. His interest in the performing arts also led to some collaborative work with several faculty members in the College of the Arts. Working with Prof. Jerry Pickering in the Department of Theater and Dance he provided new American translations of two plays by Arthur Schnitzler ("Anatol" and "La Ronde") which were performed in the university theater. Recently he worked together with Prof. John Koegel in the Department of Music providing him with English translations of a number of German songs for inclusion in his book on German theater in New York.
Lee has also always had an interest in Sports. In his younger years he was a competitive cyclist and later a distance runner.  This interest in sports also made its way into his professional life.  He served for a period of 13 years as the CSUF Faculty Athletic Representative, responsible for certifying academic eligibility for the university's student-athletes and served two terms as President of the Big West Conference, along with two years as the conference's representative on the NCAA Academic Eligibility Cabinet.
Lee and his wife, Annette, will be celebrating their 50th wedding anniversary later this year, together with their three children Michael, Kathleen (BA in Theater from CSUF), and Chris, all of whom live in Fullerton or Placentia. In his spare time, Lee enjoys travelling (a cruise on the Rhone in France looms just around the corner).
MaryLouise Hlavac: Treasurer 
Voiza Arnold: Recording Secretary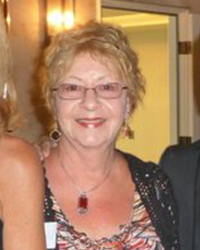 Joe and Voiza Arnold first met when they were cast in a play together while attending Drury College in Springfield, Missouri. Auspiciously, they were cast as husband and wife in A Man For All Seasons, with Joe playing Thomas More and Voiza playing Alice More. It worked out so well on-stage that they eventually figured out it could work off-stage as well. Voiza, a native of Missouri, and Joe, a native of Connecticut, married and went off to the University of Illinois where they earned their M.A. degrees and Ph.Ds. They had their first two children, Melissa and Sarah, while in Champaign-Urbana. They moved to California in 1973, and a few years later had their third child, Joseph Richard (known as J.R.), who is the only native Californian in the family. Voiza's career was largely at Rio Hondo College in Whittier, where she served as a faculty member, Dean, and Vice President.
Irene McCormick: Corresponding Secretary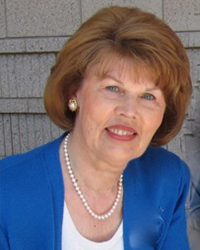 Irene McCormick grew up in Minnesota where the mosquitos were huge in the summer, and the snow was ten feet deep in the winter. Without knowledge about the wonderful weather elsewhere, it took 23 years before making the wise move to California.
Irene is married to her wonderful husband, Mac. Together they have four daughters, one son, 19 grandchildren, and six great grandchildren. Irene was a stay at home mom and spent her time volunteering for her children's activities when they were young. As her kids grew up, she moved on to other various organizations. She has held almost every position on many different boards. She was a mannequin twice for Damas de Caridad (support group for St Jude Hospital) and currently the first Vice President of the organization.
Irene loves to travel the world. She and her daughter, Nancy, went to Africa in the summer time. It was her daughter's idea. She had worked all year as a 5th grade teacher in Long Beach and wanted a vacation. They had a fabulous time, hot air ballooning, etc. Irene and her four daughters also spent a week in England. These are just a few examples of some fun trips she has taken with her family.
Irene was honored with a "Lifetime Achievement Distinguished Citizen Award" from The Fullerton Chamber of Commerce in 2001. As a past President of National Charity League, she was recently honored at their fashion show/fundraiser.
Irene is a founding member of MAMM (Marcy Arroues Mulville Memorial) Foundation. In 2006, MAMM gifted $100,000 to CSFPF towards the creation of the MAMM Alliance. As a founding member, Irene is one of sixteen who have been designated by President Milton Gordon and the University as a "founder" of the MAMM Alliance.  Irene serves on the board as Recording Secretary. 
Gail Cochran: Third Vice President – Organizational Development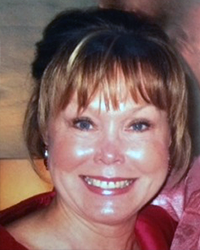 Originally from Long Island, New York, Gail Cochran moved to Orange County with her family when she was five. They settled in Fullerton. During her junior year in high school, Gail met Servite senior, Mike Cochran. They dated and then went their separate ways.  Nine years later they reconnected and became engaged after three dates. They have two children and a grandson.  On May 15, 2016, they will celebrate their 40th wedding anniversary.
After attending Santa Ana College, Gail became a flight attendant and found she enjoyed traveling, but not as a career. She worked as an Administrator in child education, later becoming a grant writer and fundraiser part-time for a nonprofit organization.
Gail's passion for the Arts was ignited when her 4th grade son became a member of the Fullerton Children's Repertory Theatre's Company, where she volunteered behind the scenes and helped with fundraising events. From there she began volunteering and supporting various arts support groups and soon reached out as a volunteer beyond the arts.
While volunteering, Gail met Marcy Arroues Mulville.  Marcy was an inspiration with her passion for identifying a need, finding a way to fulfill that need, and rallying others to help. So inspired by Marcy, Gail would later become the catalyst, orchestrator, and in 2001, the Founding President of the Marcy Arroues Mulville Memorial (MAMM) Foundation, which five years and $1,000,000 later, had gifted and supported 35 nonprofit programs and organizations throughout Orange County. In 2004, along with Mary Moore, she was nominated for the Arts Orange County Award for her work in MAMM Foundation.
In 2006 CSUF's College of the Arts was raising the roof on what is now Joseph A.W. Clayes III Performing Arts Center. Gail took a lead role in redirecting the MAMM Foundation's focus. MAMM joined forces with the University and the Foundation became the MAMM Alliance for the Performing Arts.  By way of a Charter Letter from University President Milton Gordon, Gail and all 16 MAMM Foundation Board Members were designated exclusively as Founders of the new Alliance. Gail assisted in the selection of the new Alliance board and stayed active on the board until her husband became ill with West Nile in 2007.  That same year, Gail was awarded with CSUF College of the Arts Volunteer of the Year Award.
Recently Gail rejoined the MAMM Alliance board and was appointed chair of the Rebranding and History committee. The committee's focus is on rebranding, marketing, social media, and creating a greater presence for MAMM Alliance within the community. Gail has been working directly with staff, faculty, and university students. Subsequently the position of V.P. of Organizational Development was created to further this committee's charge and Gail was elected to fill the position.
Over the years Gail has served on a multitude of nonprofit boards and has held just about every board position. She feels humbled and honored to have been recognized by her peers and her community for her volunteer efforts.  Notable honors include FUHS Academy of the Arts Foundation's Visionary Award in 2008, being nominated for Woman of the Year in 2003 and receiving St. Jude Memorial Center President's Commendation in 1999, recognition from the U.S. House of Representatives, three Special Congressional Awards, and the Governors Volunteer Award.
Anne Key: Director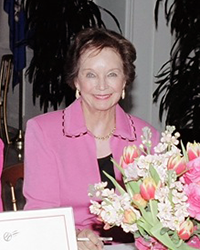 Anne Key was born in Seattle Washington. Her mother was from Seattle and father from Chicago. He was a career Navel Officer and graduated from U.S. Naval Academy in 1926. She was an only child and traveled a great deal because of her fathers' career. Her childhood was very interesting. She lived in most of the U.S. Navel Ports throughout the country such as; New London, Connecticut, Norfolk, Virginia, Newport, Rhode Island, New York, Seattle, Washington, Hawaii, Kodiak, and Alabama when they were still territories of the U.S.. She graduated from Kodiak Alaska Naval Base high school and from there she attended University of Washington for two years with an Art and History major. She met her husband Tom, who had just graduated with a degree in Business. They married and moved to Hawaii as a result of him being called back to fly in the Korean War. He was a Naval Aviator and had graduated from Pensacola, Florida Naval flight school a few years prior. Tom flew 193 missions as a Flight Commander during the Berlin Airlift 1948 – 1949. They moved to Long Beach, California in 1953 after the Korean War ended. They moved to Fullerton in 1963. Tom pursued his career in real-estate. Anne was very interested in volunteer groups and organizations. During her marriage, her main focus was fundraising and also to maintain her interior design business. When they moved to Fullerton, Anne joined the Art Alliance at CSUF and worked on fundraising, then later became President of the group and had several Art Alliance events at their home. She then met Jerry Samuelson during those years and worked under his guidance on various events. The Pacific Symphony had its early start during that time with Keith Clark as conductor. The university decided to take the new orchestra public and called it Pacific Chamber Orchestra. Tom and Anne attended many university fundraising events hosted by then president Don Shields. Jerry Samuelson and Don Shield asked Tom if he would consider taking the job of founding president of the new orchestra. They felt a businessman would be a wise choice from a business perspective and financial reasons. The first two years the orchestra was called the Pacific Chamber Orchestra then during the third year became named Pacific Symphony Orchestra.
Tom and Anne were very enthusiastic about this new symphony as Orange County was a large growing community with sophisticated taste. They did not want to be in the shadow of the Los Angeles Philharmonic and it was a struggle at times for the new orchestra, due to negative press in comparing them to the "Grand Old Philharmonic". They hit the jackpot so to speak when the board persuaded Cart St. Clair to move to Orange County and take the reins as conductor, things really started to change. Anne worked on a variety of fundraisers for the Pacific Symphony Orchestra. She has been Gala Ball Chairwoman for the symphony twice and Opera Pacific Co-Chairwoman once. Anne loved working for these events as she met many new fresh faces throughout Orange County, all very enthusiastic like herself about the future opportunities for the symphony. The building of the OC Performing Arts Concert Hall in Costa Mesa was such a wonderful addition to Orange County.
Anne Key was involved in the new Performing Arts program at CSUF while it was being built. Tom and Anne donated money both times to help with funds needed to complete the concert hall along with many others in the community. One of the biggest honors in her life was when Dean Jerry Samuelson asked her to be the Chairman for the opening Gala of the new Performing Arts center on January 15, 2006. They rented a huge tent for the pre-dinner. 750 people attended. Everything was in black including the carpet, chairs, and table clothes with red roses and pin lights over every table. Deborah Voight and Marc Cherry, CSUF Alumni, were guest performers. A concert followed in the new hall and it was a wonderful, beautiful evening.
Anne felt much honored in 2005 to receive the Marcy Award from the MAMM Foundation for her years of community service in Orange County. Orange County has come such a long way since she moved here in 1958. She feels very proud of her efforts helping in a small way to contribute to Orange County. 
Pat Perkins: Director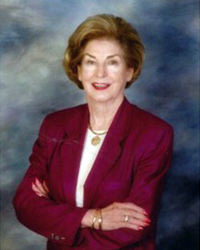 Pat Perkins grew up in Bullocks, Haggarty, and Robinsons department stores. During the hot summer months she spent her time at the movies with the promise that "It's cool inside!" She lived in El Monte, which was hot and dusty and the area was filled with walnut trees and Gay's Lion Farm. The lions would wake her up in the early mornings at feeding time. Later she and her family moved to Pasadena. Pat spent some time at a boarding school where she became aware that learning can be a full time job.
Pat's college career started in Nashville. The school had a wonderful conservatory and beautiful stables. She was also from Southern California and was not used to certain restrictions that some southern girls take for granted. She finished her college career at Loyola Marymount in Los Angeles.
Fullerton has been Pat's home for the last 50 years. Her children grew up in Fullerton and she felt very much at home from the day they moved in. For the next 20 years, her life was filled with her children's activities and volunteer work.
Two of the most exciting things in Pat's life include her professional life and volunteer work. Part of her professional life included being at the South Pole during an ice storm. Seeing the "sun dogs" and the ice crystals in the air. The sights were unbelievably unreal. For that trip, her job was to replace the silver ball on the South Pole, broken by a couple of pilots. Siple Station is even more isolated and she was the first woman ever to visit. Pat had the good fortune of being able to work for the Antarctic Program of the National Science Foundation. Everyone who entered the continent through the auspice of the United States went through Pat for their transportation, clothing, medical clearance, and more.
Some of Pat's volunteer work involved being chairman for a headdress ball for Damas de Caridad (support group for St Jude's Hospital). There was a one-year commitment working with a group of dedicated volunteers and an exciting and talented group of designers. Someone who was usually on the committee was Raoul Rodriquez, whose floats always won sweepstakes in the Rose Parade. They had ten headdresses, each no more that six feet in height and width, and weighing no more that 29 pounds. It was so exciting to walk into the exquisite ballroom the night of the ball and see everything come together in culmination of a year's work. Through those years, they raised more than $2,000,000 for the hospital.
Pat is a founding member of the MAMM Foundation. She took part in negotiations with California State University, Fullerton to create MAMM Alliance, and served on the first MAMM Alliance board. She has remained an active member. 
Ex-Officio Directors
Dale A. Merrill 
Dean, College of the Arts
Patricia Falzon
Senior Director of Development,  College of the Arts
Katherine Powers
Interim Director, School of Music
Dave Mickey
Chair, Dept of Theatre & Dance