MAMM Alliance
June 13, 2006 marked the beginning of the MAMM Alliance, formerly the MAMM Foundation, which had been established in 2001. The new Alliance became the support group for the new Performing Arts Center at California State University, Fullerton, now named the Joseph A.W. Clayes III Performing Arts Center, and operates under Cal State Fullerton Philanthropic Foundation's (CSFPF) 501c 3.

As a nonprofit support group for the Center, MAMM Alliance supports the performing arts through direct departmental grants, master classes, New York and Hollywood talent showcases, and more, by raising funds through campus and community memberships, as well as special events.

Additionally, support monies for the Performing Arts Center come through dividends earned by an endowment established by the former MAMM Foundation. The dividends are designated annually by CSFPF Board of Directors to the College of the Arts and are used in collaboration with the MAMM Alliance to support the performing arts and underwrite special performances. In order to grow the endowment, MAMM Alliance commits 25% of its annual monies raised towards the MAMM Foundation Endowment. Since the founding of MAMM Alliance in 2006, over $500,000 has been gifted to CSUF College of the Arts that has assisted thousands of performing arts students.

MAMM Alliance Founders (front row) Irene McCormick, Eva Schnieder, Bobi Hirschbein, Milly Heaton, Gail Cochran, Fran Gaglio, Mary E. Moore, Dee Gustafson. (Back row) Jennifer Cowen Fitzgerald, Susan Katsaros, Pat Perkins, JoAnn San Paolo, Ann Harvey, Patty Anfinson, Kathy Allred and Barbara Gregory.
Sixteen members of the MAMM Foundation were designated exclusively as Founders of the MAMM Alliance by former CSUF President, Milton A. Gordon. The sixteen MAMM Alliance founders are Gail Cochran, Ann Harvey, Irene McCormick, Pat Perkins, Bobi Hirschbein, JoAnn San Paolo, Dee Gustafson, Kathy Allred, Patty Anfinson, Jennifer Fitzgerald, Fran Gaglio, Barbara Gregory, Mary Moore, Eva Schnieder, Milly Heaton and Susan Katsaros.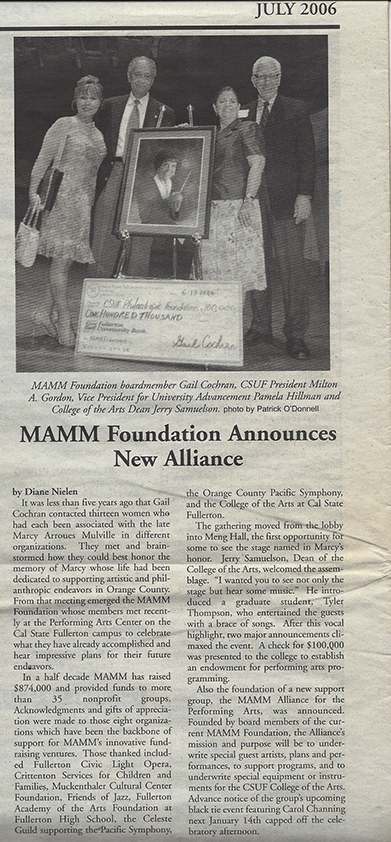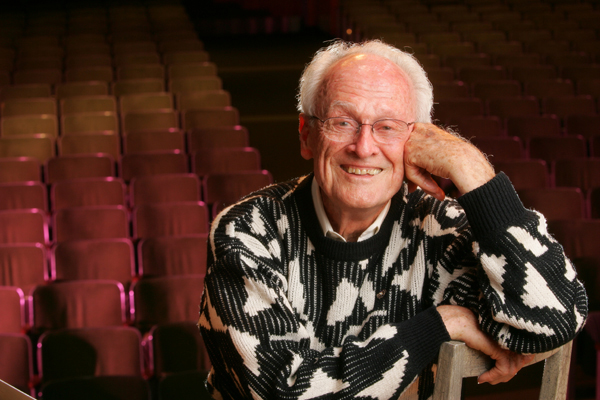 Serving as the first MAMM Alliance President was Dr. James D. Young, Professor Emeritus of Theatre at CSUF. Dr. Young was a great supporter and advocate of the MAMM Foundation and served on the MAMM Alliance Board, until his death in 2014. Currently there are 21 community leaders serving as board member of the MAMM Alliance, three of which served on the first Foundation and Alliance board.