Alvin Rangel-Alvarado (he/his/him)
Modern Dance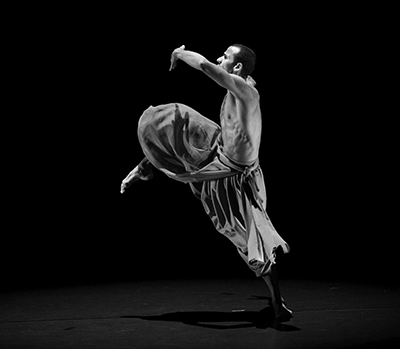 Contact
Location: CPAC 293
Phone: (657) 278 - 8150
Email: arangel-alvarado@fullerton.edu
Please contact the Theatre & Dance Department Office  (657-278 -3628) for current office hours
 Courses
DANC 112, Ballet I
DANC 122, Modern Dance I
DANC 126, Improvisation
DANC 222, Modern Dance II
DANC 322, Modern Dance III
DANC 324, Forces and Figures
DANC 371, African American Concert Dance History
DANC 422, Modern Dance IV
DANC 423, Advanced Composition
DANC 478A, Production/ Performance
DANC 497, Production Projects
Alvin Rangel is an award winning dancer and choreographer. Rangel maintains an active schedule teaching master classes, choreographing and performing work both nationally and internationally. For nearly a decade, he performed with the internationally acclaimed Dayton Contemporary Dance Company (DCDC), a dance company rooted in the African American experience. He has performed with numerous ballet and modern dance companies as a guest artist. He participated in the PBS documentary titled Free to Dance . As a dance educator, Alvin has conducted master classes and workshops in the United States, Russia, Poland, Colombia, Argentina, Australia, Mexico, Guatemala, Taiwan and Puerto Rico. Many dance companies in the United States, Mexico and Puerto Rico have performed his choreography. Alvin is also a certified yoga teacher. For a complete bio and more information visit: www.alvinrangel.net  
Educational Values:
Each student matters as a unique individual. Each student's unique experiences, beliefs and values brings an awareness and consciousness that contributes to our community of learners. Each student is encouraged to mindfully and respectfully share their point of view, personal experiences, questions and insight. In the process, everyone is a learner; everyone is a teacher.
Teaching and learning is a cooperative endeavor, with responsibilities for both the teacher and the learner. It is the student's responsibility to critically engage and reflect on the learning experience and process, and to reveal that learning to the instructor. It is the instructor's responsibility to provide experiential opportunities and resources for learning and to offer both challenge and support. 
Commitment to Diversity, Equity and Inclusion:
I recognize that our individual differences deepen our understanding of each other and the world. I respect and value, people of all ethnicities, body types, genders, gender identities, religions, ages, sexual orientations, abilities, socioeconomic backgrounds, regions, and nationalities. A dedication to inclusiveness requires respecting what others say, their right to say it, and the thoughtful consideration of others' communication. This commitment shapes my core expectation for behavior inside and outside of the classroom/studio and workplace.
Land Acknowledgment:
The department of theatre and dance acknowledges our presence on the traditional, ancestral and unceded territory of the Gabrielino/Tongva Nation. We pay our respects to the Indigenous land caretakers past, present, and emerging. For more information please visit:  http://www.gabrielinotribe.org/