Welcome to the College of the Arts – A College of Significance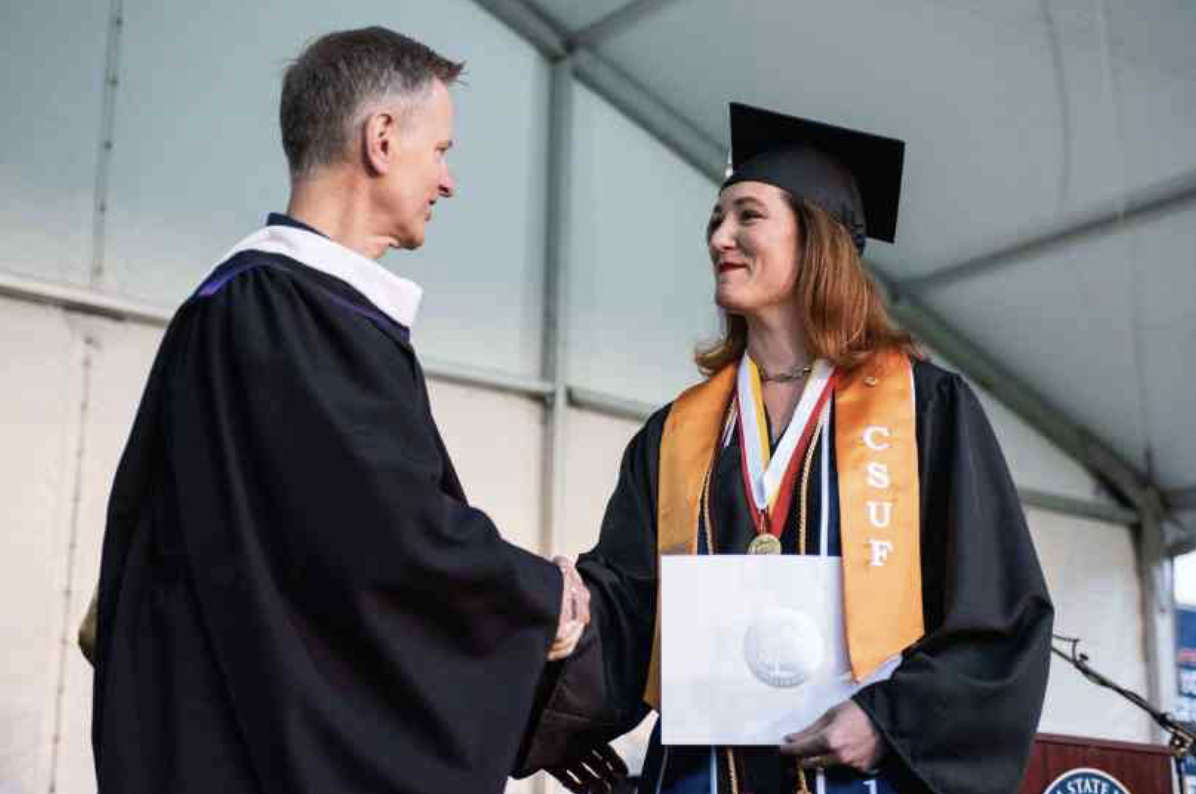 Dean Dale A. Merrill congratulates a new graduate from the College of the Arts commencement ceremony Saturday, May 18th, 2019. (Michael Ares, Contributing Photographer)
    Orange County Register:  
Cal State Fullerton graduates aspire to create change through art

  Orange County Register: 
CSUF's Performing Arts Center enriches campus, community culture

Cal State Fullerton's College of the Arts advances creative expression through impactful undergraduate and graduate programs within its School of Music and the departments of Art and Theatre & Dance. The college's 2,400 students receive top-tier instruction through award-winning faculty and advanced curricula and practice, including collaborative relationships and partnerships with leading institutions. Its galleries and performance spaces, including the Clayes Performing Arts Center and Grand Central Art Center in Santa Ana, offer multiple stages for showcasing students' visual and performing arts achievements. Since 1961, the College of the Arts' 14,000 alumni have made their mark on stage, on canvas, on screen and behind the scenes, working for film and animation studios, museums and galleries, music ensembles and other organizations.
What sets CSUF's College of the Arts apart?
I. WE ARE LEADERS IN DELIVERING QUALITY ARTS EDUCATION
CSUF and the College of the Arts have a historical and proven reputation for delivering a high-quality arts education to diverse groups of students.  
Our students are engaged in art making as undergraduates and are actively involved in a wide range of performances, concerts, plays, exhibitions, recitals, masterclasses, and internships in contrast to many colleges where these opportunities are typically reserved for seniors and graduate students. Our students have access to and benefit greatly from mentoring by our exceptional faculty members. As performers and master-teachers, they "teach and do."
CSUF is proud to offer a remarkable depth and breadth of educational programs with tuition well below the national average. It is continually recognized as a top institution in the West for students graduating with the least debt.
Students learn practical and technical skills in addition to the theoretical and conceptual aspects of their art form.
Graduates are successful in admissions to top graduate programs across the country. 2017 undergraduate exit survey shows that 31% planned to attend graduate school, with 28% having been accepted at the time of the survey.  
II. OUR GRADUATES ARE WORKING THROUGHOUT THE ROBUST CREATIVE ECONOMIES
Upon graduation, students are ready to step into a multitude of careers through faculty connections, industry partnerships, and alumni referrals.  
Graduates of the Department of Visual Art's programs are highly sought after and employed by a premiere list of entertainment and media companies, including Nickelodeon, Disney, DreamWorks, Cartoon Network, Sony Pictures, Paramount Studios, Pixar, and Warner Bros.
Theatre & Dance graduates are working across the country as performers, technicians and managers, in a diverse range of companies that include Disney, major movie studios, Broadway, national touring companies, professional dance and theatre companies, and the entertainment industry.
The School of Music's working artists perform at the Metropolitan Opera, Segerstrom Center for the Arts, Disney Hall, as well as compose, orchestrate and arrange for major motion pictures. 20-25 new music teachers are credentialed through the School of Music every year, and step directly into teaching positions at schools across the region and nation.
Our size, breadth, and longevity in arts education has - and continues to - significantly impact creative industries and economies in Southern California and beyond.

Through a "learning by doing" approach to arts education, College of the Arts students graduate with authentic, real world experience that ensures their success in the working world.
III. STUDENTS CAN ACCESS THE NEWEST TECHNOLOGIES, INTERACTIVE MEDIA AND FACILITIES
The College continually invests in state of the art learning tools, classrooms, labs, and performance facilities:
Visual Arts students learn in newly upgraded glass and ceramics studios, and industry standard Cintiq labs in animation/ illustration classrooms.  
Theatre & Dance students utilize state-of-the-art audio, lighting, and other technical labs, in addition to having access to a broad array of theatre and dance spaces for rehearsal to gain performance experience.
School of Music students benefit from the Performance Science Centre Lab, which uses motion capture video and other technologies to study performance improvement and injury prevention for pianists, instrumentalists, singers, and conductors. It is also used for instruction in the psychology of performance, anatomy and physiology in music performance, health and wellness for musicians, and Alexander Technique for musicians.
School of Music students rehearse and perform in one of Southern California's finest concert halls, Meng Concert Hall, located in Clayes Performing Arts Center.
IV. WE ARE THE REGION'S ARTS EDUCATOR - A REGIONAL FOCUS WITH NATIONAL IMPACT
As a state university and a national model for successful public comprehensive universities, we provide access and opportunity to our community's aspiring arts students.
CSUF's broad geographic area is larger than that for other local CSU campuses, resulting in a more diverse and talented body of arts students.  
Our mandate is to focus on local students, providing them with access first. Local benefit - national impact.
V. CSUF IS A LEADER IN COMMUNITY ENGAGEMENT
Through 400 plays, concerts, exhibitions annually, we provide community access to affordable, quality arts experiences.
Faculty and students partner with community organizations to deliver youth arts education programs such as Ryman Arts, summer art and music camps, and high school theatre and music festivals.