Sergio Lizarraga
Associate Professor and concentration head, Graphic Design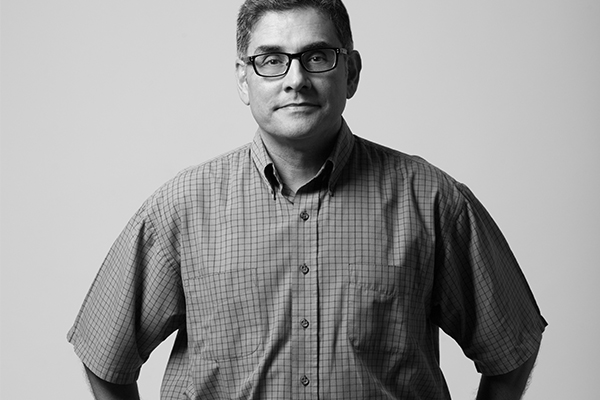 Contact
Location: VA 278
Phone: (657) 278 - 5964
Email: slizarraga@fullerton.edu
Please contact the Art Department Office 
(657-278 -3471) for current office hours
Courses
ART 423, Computer Animation
ART 483E, Computer Assisted Graphics
ART 483F, Design for Interactive Art
ART 503A, Graduate Problems in Graphic Design
About
Sergio Lizarraga has been a practicing graphic designer since he received his bachelor's degree at Fullerton in 1984, and upon the completion of his master's degree in 1988 joined the graphic design faculty. He was the first graduate student at Cal State Fullerton to focus his studies in digital media, which included digital imaging, 3-D computer modeling and computer animation.
He has continued to explore digital media and it's relationship to the visual language. In the 1990's he participated three times with the California State University Summer Arts Program. Once as a fellow collaborator with Cal State Fullerton Prof. Dana Lamb and twice as a course program developer in digital media. In 1994 after receiving a doctoral equivalency rating from California State University at Fullerton, Professor Lizarraga was awarded tenure.
Professor Lizarraga's research has brought him to a collaboration with Esther Acevedo of Mexico's National Institute of Anthropology and History and fellow Cal State Fullerton professor Ruth Capelle in the development of an interactive CD rom on Mexican Muralism. The project is funded by the U.S. Mexican Fund For Culture.