Visual Arts Student Galleries
Marilyn & Cline Duff, Leo Freedman Foundation, and Exit Galleries

These exhibition spaces are designed to provide students with experience presenting their artwork in a gallery setting, preparing them for future careers in the arts. Each space is prepared and maintained by the student exhibiting their work. 
Gallery hours are determined by the exhibitor. Galleries are closed for Winter, Spring, and Summer Break, major holidays, and periods of university closure.

---

• Visit our virtual gallery of Fall 2020/ Spring 2021 BA/BFA student work!
Duff Gallery (graduate Students)
---

8/7-8/12: Multifaceted, Niccole Ugay-Clavesilla (Drawing & Painting)
8/21-9/30: Begovich Gallery presents Land as Kin
10/23-10/28: The Only Way Out is Through , Donna Letterese (Illustration)
11/13-11/18: El Pacto del Olvido , Luselia Marin (Drawing & Painting)
12/4-12/9: Assimilator , Penelope Leanarts (Drawing & Painting)
Freedman Gallery (Gradute students)
---

7/30-9/24: Multifaceted , Niccole Ugay-Clavesilla (Drawing & Painting)
11/13-11/18: Modern Escapism,  Lilie Alcala (Illustration)
11/27-12/2: Leonardo Contreras (Sculpture)
12/4-12/10: Zaneta Lin (Illustration)
 Exit Gallery (undergraduate students)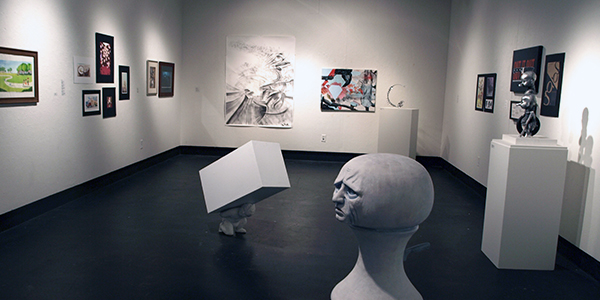 Exit Gallery is currently closed. Check back soon for new exhibitions!
---
Off-Campus Student Exhibitions
Clark Silva 
Legend: 200 Years of Sleepy Hollow


Through October 31, 2021
Location: MUZEO Museum & Cultural Center, Anaheim