Kerry Jennings
Associate Professor
Director of Opera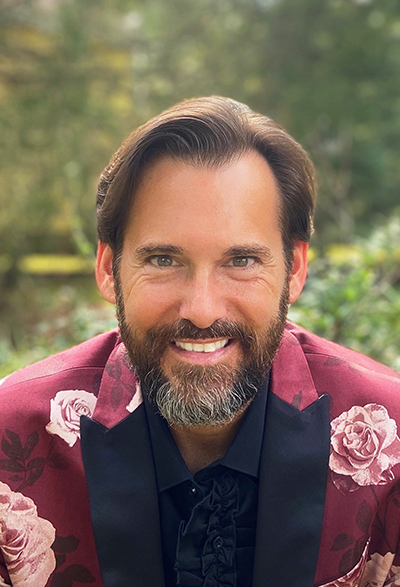 Contact
Location: CPAC 376
Phone: (657) 278-5523
Email: kjennings@fullerton.edu

Website

Please contact the Music Office 
(657) 278-3511 for current office hours
Courses
MUS 406D: Opera Theatre
MUS 484: Performance Techniques for Voice
MUS 468: Vocal Pedagogy
MUS 465V: Advanced Vocal Workshop
MUS 457A: Song Literature; German Lieder
MUS 457B: Song Literature; French Mélodie
MUS 456: Opera Literature
MUS 380A: Diction for Singers; English and Italian 
MUS 380B: Diction for Singers; German
Dr. Kerry Jennings is an Associate Professor of Opera Studies at Cal State Fullerton. His stage direction has recently been recognized with 1st and 2nd Place Awards in the National Opera Association's Collegiate Opera Scenes Competition with scenes from The Ballad of Baby Doe (2021) and Der Rosenkavalier (2020), as well as being named a national finalist for The American Prize in Collegiate Opera Direction for his production of Massenet's Cendrillon. Additional directorial credits encompass works from Monteverdi to composers of the 21st Century and include highlights such as L'Incoronazione di Poppea, Dido and Aeneas, Cosí fan tutte, Hänsel und Gretel, La bella dormente nel bosco, Suor Angelica and Gianni Schicchi, Amahl and the Night Visitors, The Old Maid and the Thief, Three Sisters Who Are Not Sisters, Sorry, Wrong Number, and The Cows of Apollo. Dr. Jennings also recently directed a production of Mozart's Die Zauberflöte for the Austrian American Vocal Academy at the Kleines Theater in Salzburg. Before turning to a concentration in directing, Dr. Jennings' performance highlights included over forty lead and supporting roles comprised of early, standard, and contemporary repertoire, recently singing the role of Ernesto in Don Pasquale in Sankt Anton, Austria. As a concert soloist, he has been heard in works by J.S. Bach, Beethoven, Händel, Haydn, Mozart, Puccini, Saint-Saëns, Rachmaninoff, Vaughan Williams, Britten, Fonseco, Orff, Rorem, and others. 
Noted for his "beautiful voice, great diction, and uncanny sense of style and phrasing," Kerry's recording In My Memory: American Songs and Song Cycles on Centaur Records was met with acclaim from both the composers and critics alike and features works by Libby Larsen, Tom Cipullo, Lori Laitman, and Richard Pearson Thomas. Libby Larsen has called Kerry's recording of her cycle My Àntonia "the definitive reference performance for future performances." He is also featured on David Arbury's CD Alchemy and as tenor soloist on the Houston Camerata's recording of Fonseca's Missa Afro-Brasileira. He is currently working on his second solo disc of American Song Cycles which will feature works by Juliana Hall and Zachary Wadsworth. Jennings was a District Winner and Regional Finalist in the Metropolitan Opera National Council Auditions. 
Dr. Jennings is a member of several music organizations, including NATS, Opera America, The Recording Academy, The College Music Society, and NOA, where he is on his third cycle as a member of the Dominick Argento Chamber Opera Competition Committee.