CSUF Cello Fest 2023
June 26 - July 2, 2023

Cal State Fullerton's Cello Fest 2023 aims to provide training and performance opportunities to middle school, high school, and college level cellists. This camp will include lessons from our guest and university faculty (Bongshin Ko

), masterclasses, and cello ensemble experiences. Participants will engage in solo and ensemble concerts as invaluable musical enrichment. Please allow us to help in the development of your musicianship!
Performance Opportunities
Master Classes
Solo Concert
Ensemble Concert
Typical Daily Schedule
9:00-9:45 am: Technique workshop
9:45-12:15 pm: Lessons and Supervised Practice
12:15-1:00 pm: Lunch
1:00-2:45 pm: Ensemble Rehearsal, SoundHealing, and Performances
Requirements
Certificate of Merit Level 7 (or equivalent)

Private Teacher Letter of Recommendation

Be going into 6th - 12th grade this fall.

Enrolled in Junior College as music major

$700 Registration Fee ($300 non-refundable deposit due after acceptance.)
Deadlines
April 15, 2023 - Early Bird Application $450
(Non-Refundable)
May 26, 2023 - Regular Application
& Non-Refundable $300 deposit due

June 5, 2023 -  Regular Application Remaining $400 Payment due
How To Apply
Complete the Application Form  (Link coming soon)
    Before May 26, 2023 Deadline
Pay $300 non-refundable deposit  (after acceptance is confirmed)
    Before May 26, 2023 Deadline
Pay balance of registration fee ($400) 
    Before June 5, 2023 Deadline
Complete release of liability form   
    Bring to the first day of camp.
FACULTY


Bongshin Ko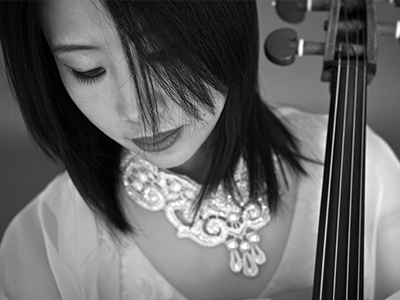 Hailed by critics for her "most perfect playing" (Internet Cello Society) with "great warmth and beauty" (The STRAD), cellist Bongshin Ko has appeared worldwide as a soloist with such groups as Television and Radio Symphony of Moscow, Munich Chamber Players, the KBS Korean Broadcasting Symphony, Zagreb Philharmonic, and Central Broadcasting Symphony of China to name a few. Ms. Ko was the first Korean artist to be invited to perform in China after the historic resumption of diplomatic relations between South Korea and China, and has since been invited back annually.
Ms. Ko has collaborated with some of the world's greatest artists including Mstislav Rostropovich, Bernard Greenhouse, Sir Georg Solti, Leonard Stein, Gunther Schuller, Semyon Bychkov and Valery Gergiev. She appeared at Seoul International Music Festival to give the Asian premiere of Bernard Rands' Cello Concerto, dedicated to and world premiered by Mstislav Rostropovich in celebration of his 70th birthday. Other international music events and festivals welcomed her to Schleswig-Holstein festival, Kronberg Cello festival, Hoertnagel Konzertdirekzion, Berlin Wall 10th anniversary concert, Rostropovich & Friends Concert (Germany), American Cello Congresses, Kumho Guest Artist Recital, plus numerous others in France, Italy, Switzerland, Spain, Luxembourg, Poland, Russia, Monaco, Croatia, USA, Korea, China, Japan, Hong Kong, and Indonesia.
She has performed to critical acclaims on NDR and Bayerischer Rundfunk (Germany), Fuji TV (Japan), TV New Zealand, TV China, Korean Broadcasting Systems and NBC. As a member of the European-based Tritton Cello Quartet she can be heard on the Musica Columna label. Her live performances of Brahms and Barber sonatas are often broadcast on the Arte TV in Korea and over the transpacific in-flight classical station on Asiana Airlines. Ms. Ko's Haydn and Saint-Saens concerti, recorded with Munich Chamber Players in Germany, can also be heard on the SONY Classical label.
As a recipient of over 30 international prizes and awards, including the highest performance award in her native Korea and the Crossroad Award in the US for her "superior teaching," she is on popular demand as a teacher as well as a performer around the globe. Prestigious schools where she taught special guest master classes include The Juilliard School, Mannheim Musikhochschule, Korean National University of Arts, Nürnberg School for Music, and Bejing Central Conservatory. Serving as Professor of Cello and Vice Director at Cal State University Fullerton School of Music she is also active in supporting young talents and promoting cello art through   Greenhouse Foundation & Festival


, which she founded together with the late legendary cellist Bernard Greenhouse in 2008. As a leading member of The New York Soloists and New York Public Library Concert Series Ms. Ko performs frequently at major venues and concert halls throughout five continents.