Robert Watson
Professor of Music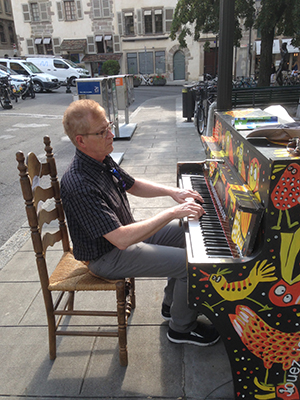 Contact
Location: CPAC 240
Phone: (657) 278-2575
Email: rwatson@fullerton.edu
Please contact the Music Office 
(657) 278-3511 for current office hours
Courses
285, Functional Skills Keyboard Majors
365K, Keyboard Workshop
386, Piano Vocal Collaboration
408K, Chamber Music: Keyboard
567, Seminar: Piano Pedagogy
570P, Seminar: Piano Literature
Dr. Rob Watson is Professor of Music (piano) and  Director, Performance Science Centre Lab  at California State University, Fullerton.
As a solo pianist, he has played recitals in Austria, Bulgaria, China, England, Italy, Japan, and the USA, and he has performed chamber music with such outstanding musicians as the St. Petersburg String Quartet, and members of the Los Angeles Philharmonic, the Pacific Symphony, and the Verdi Conservatory (Milan, Italy). His recordings were released on the Educo label.
Dr. Watson has research interests in principles of movement as they relate to piano performance and pedagogy, on which he has been invited to present at international (Beijing, 2017), national (Francis Clark Center, 2018), and regional conferences and venues (MTAC 2018, 2020).
In 2011, Dr. Watson was awarded a grant to establish the Performance Science Centre lab that serves as the nucleus of instruction and research into peak performance for musicians in the School of Music, at California State University, Fullerton. Beginning Fall 2020, Dr. Watson will provide an introduction for all new undergraduate music students into principles of peak performance and musician-focused health and wellness.
On a more advanced level, he is developing a post-baccalaureate certificate program, Performance Science for Musicians, as a science-based approach to optimal performance psychologically, physically, and healthfully.
In order to promote student performances, Dr. Watson created (spring, 2000) and curates a community outreach program, "Pianists In Performance," under whose aegis CSUF piano students perform community concerts, and, under sponsorship from an intramural grant process, brings guests artists to campus for masterclasses, student interaction, and performances.
Dr. Watson is an alumnus of the San Francisco Conservatory of Music, the University of Notre Dame de Namur, and the University of Arizona, and he has worked with faculty of the Guildhall School (UK). He is a member of the Performing Arts Medicine Association, Music Teachers National Association, Music Teachers' Association of California, and PI KAPPA LAMBDA, national music honor society.