21st Annual New Music Festival:


Coming Together: Communities, Collaboration and

Collectives

 


Dr. Pamela Madsen, Artistic Director


Select dates: February - April, 2022
Brightwork newmusic Los Angeles and Soprano Stacey Fraser in collaboration with CSUSB to present works from the NEA funded opera: Why Women Went West, by CSUF faculty composer Pamela Madsen, with works by Ben Johnston, and Synchromy's Tierkreis Project with composers Vera Ivanova, Adam Borecki and Vicki Ray.  
Friday, February 25 at 8pm
Meng Concert Hall
Tickets: $10 / $8 Titan price

Buy Tickets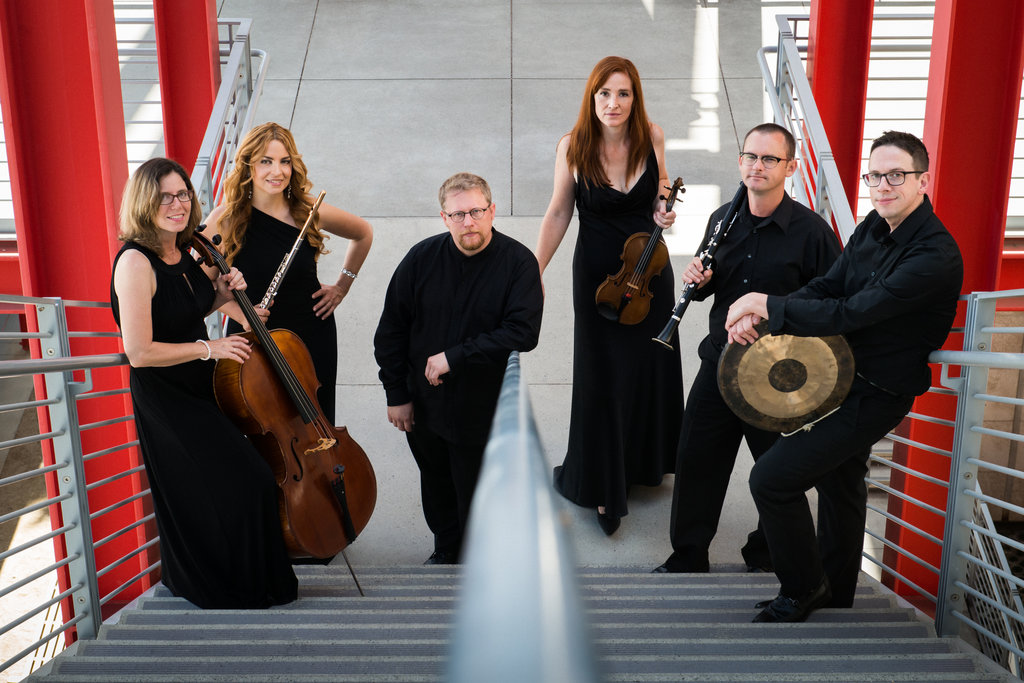 Brightwork newmusic Los Angeles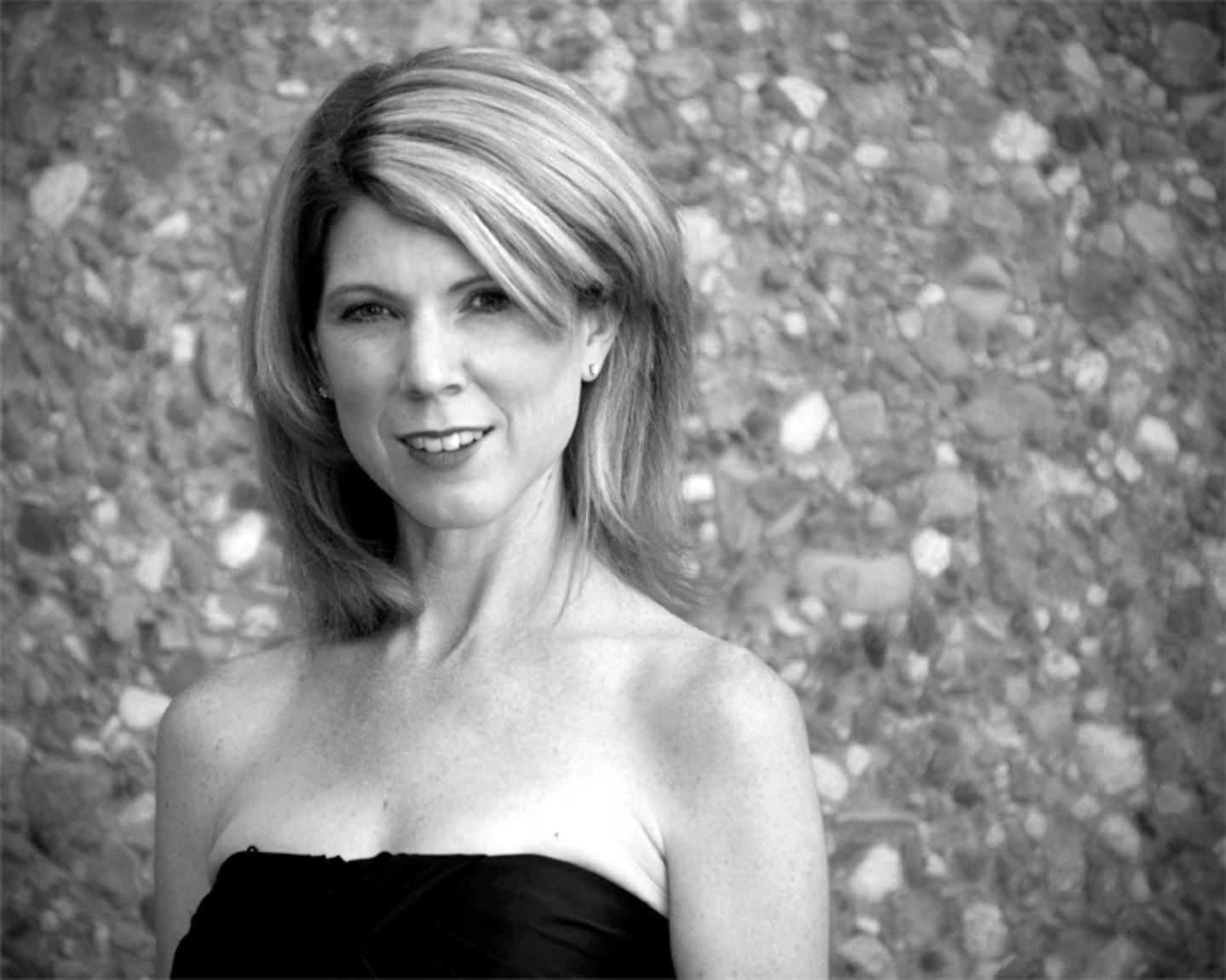 Stacey Fraser, soprano
Ben Johnston: Ponder Nothing for solo clarinet
Ben Johnston: Calamity Jane to her daughter
 
Vera Ivanova: Sagittarius
Adam Borecki: Scorpio
Vicki Ray: Perpendicular Twins
 
Pamela Madsen: works from the Opera Why Women Went West with text and video by Quintan Ana Wikswo
Owl's Breath 
The Birds Here
The Thoughts of Youth: A Prayer for my daughter
Text by Mary Hunter Austin, and William Butler Yeats 
 
Brightwork newmusic Los Angeles:
Sara Andon, flute
Brian Walsh, clarinet, bass clarinet
Jennifer Bewerse, cello (guest artist)
Aron Kallay, piano and keys
Nick Terry, percussion
Shalini Vijayan, violin
Brightwork newmusic was founded in 2013 by pianist Aron Kallay. The mission of the 501(c)(3) non-profit corporation is to enliven and expand contemporary classical music with a focus on West Coast composers and performers. The members of our in-house ensemble, Brightwork, are among the best chamber musicians in the world. The ensemble strives to find new and exciting ways to connect with audiences in the United States and abroad by presenting friendly and exciting concerts in both traditional and non-traditional spaces. Our flagship concert series Tuesday @ Monk Space presents world-class musicians along with the most promising up-and-coming local, national, and international musicians. Through our educational outreach program, Project Beacon, we work closely with young musicians and composers across Southern California. Our goal is to empower the next generation of artists through residencies with youth orchestras and universities, student composer readings, masterclasses, and workshops.
Website

---
Beyond Opera Collective
Wednesday, March 9 at 8pm
Recital Hall
Featuring Jack Van Zandt and Jill Freeman's NEA awarded opera project, The New Frontier, with Stacey Fraser, soprano; and two works by Anne LeBaron featuring soprano Laura Bohn: the rarely performed Dish, a fragmented cabaret-esque ode from the frontlines of the sexual battlefield, and Radiant Depth Unfolded - Settings of Rumi. 
Tickets: $10 / $8 Titan price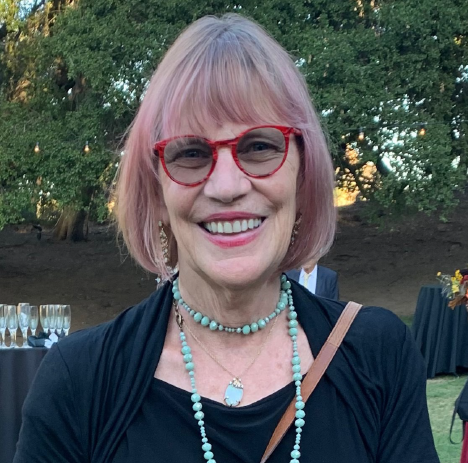 Jill Freeman, Librettist
PROGRAM
Radiant Depth Unfolded
Music by Anne LeBaron
Poems by Rumi
Laura Bohn, soprano 
David Castillo, baritone
Lisa Sylvester, piano
Dish
Ode to the Sexual Battleground
Music by Anne LeBaron
Libretto by Jessica Hagedorn
Laura Bohn, soprano soloist 
Richard An, piano synthesizer, tabla
Miller Wrenn, electric bass
Ephraim Schulz-wackerbarth, drum set
Nigel Deane, violin 
Marc Lowenstein, conductor
Anne LeBaron, electronics 
The New Frontier
An Atomic Age Jazz Opera
A concert performance of excerpts
Music by Jack Van Zandt
Libretto by Jill Freeman
Stacey Fraser, soprano
Nadia Shpachenko, piano and ensemble director
Brian Walsh, soprano and tenor saxes
Kye Palmer, trumpet and flugelhorn
Derek Tywoniuk, vibraphone and marimba
Jordan Curcuruto, drum kit 
Katie Eikam, percussion
John Kennedy, bass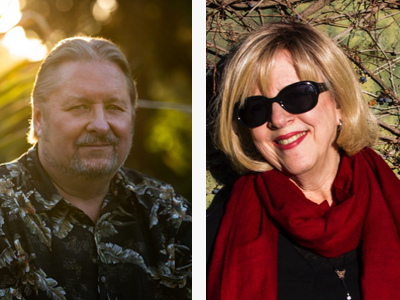 Jack Van Zandt and Anne Le Baron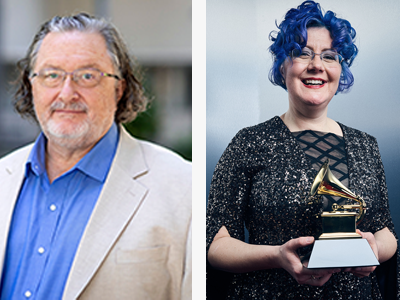 John M. Kennedy and Nadia Shpachenko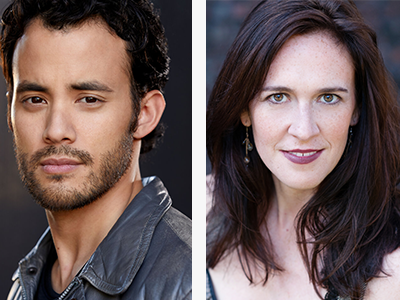 David Castillo and Laura Bohn
Beyond Opera Collective is co-directed by Los Angeles based composers and co-directors Jack Van Zandt and Anne Le Baron. The musicians for the cabaret concert premiere performance of Van Zandt's and librettist Jill Freeman's The New Frontier: An Atomic Age Jazz Opera, include Stacey Fraser, soprano; Nadia Shpachenko, piano and ensemble director; John Kennedy, bass; Brian Walsh, sax; Kye Palmer, trumpet; Derek Tywoniuk, vibraphone and marimba, Jordan Curcuruto and Katie Eikam, percussion. Anne LeBaron's rarely performed Dish, a fragmented cabaret-esque ode from the frontlines of the sexual battlefield, will feature Laura Bohn, soprano; Nigel Deane, violin; Richard An, piano/synth; Efraim Schulz-wackerbarth, drum set; and Miller Wrenn, electric bass. Her Radiant Depth Unfolded-Five Settings of Rumi, a SongFest commission, will be sung by Laura Bohn, soprano, and David Castillo, baritone, with Lisa Sylvester at the piano.
---
Jack Van Zandt (b. 1954) is a veteran Los Angeles and Ireland-based composer of music for concerts, television, film, multimedia installations. He studied composition at UC Santa Barbara with Thea Musgrave and Peter Racine Fricker, and in England with Alexander Goehr at Cambridge University, and Peter Maxwell Davies at the Dartington College of the Arts.  He is also a teacher, music education program designer, concert curator and producer, and frequent lecturer on various musical subjects. He is a faculty member of the University of Colorado at Colorado Springs and the California Institute for the Arts (CalArts). He was co-winner of the Best Classical Compendium Grammy Award in 2020 for pianist Nadia Shpachenko's CD, The Poetry of Places. His concert music has been performed all over the world and his music composed for TV has appeared on numerous broadcast, cable and internet networks, including Netflix, Amazon, Hulu, NBC, CBS, ABC, Fox, HBO, AMC, and the BBC. His current projects in progress include a dramatic madrigal with dance, On the Shores of Eternity, with texts by R. Tagore for vocal ensemble and soloists, dancers, electronics, flute, harp, cello and electric bass; a set of Irish traditional music-inspired pieces with flutist/co-composer Jane Rigler and Irish traditional singers, artists and filmmakers; a piano sextet with electronics, Lessness, for the Oxford University based Villiers Quartet and pianist Nadia Shpachenko; and a CD project with soprano Stacey Fraser that includes his song cycle with texts by Percy Shelley, A Chaos of Light and Motion. Van Zandt's book with British composer Alexander Goehr, "Composing a Life: Teachers, Mentors and Models" is to be published by Carcanet (UK) in late 2022. His concert works are published by Composers Edition.
Website

---
Anne LeBaron's compositions have been performed worldwide. Her seven operas celebrate legendary female figures, including the renowned voudon queen, Marie Laveau, featured in Crescent City.  She is currently completing two operas: LSD: Huxley's Last Trip, which includes microtonal instruments built by Harry Partch; and This Lingering Life, a chamber opera based on playwright Chiori Miyagawa's radical retelling of five classic Noh plays. The libretto, by Mark Campbell and Miyagawa, leaps deftly across centuries, cultures, and space to connect disparate people looking for meaning in their lives. Two scenes from the opera were performed live by West Edge Opera in May 2021. Other projects now underway include Femicide, commissioned by cellist Rocio Diaz de Cossio, and a new work for horn and harp, commissioned by Rachel Constantino. Also active as a writer, she has published essays on subjects ranging from hyperopera, to surrealism, to how artists confront our post-truth era. Her keynote address for the Totally Huge New Music Festival in Perth, Australia, "Sonic Ventures in Post-Truth Surrealism," has been published in Sound Scripts, Vol. 6. Her frequently cited essay "Reflections of Surrealism in Postmodern Musics" is published in Postmodern Music/Postmodern Thought. "Timbral and Spatial Ambiguities in the Mesmerizing Music of John Palmer: Thereafter, Transparence, and Woanders" is now published for the new Vision Edition publication, Looking Within: The Music of John Palmer. She was invited to contribute to a forthcoming volume celebrating the twentieth anniversary of the Center for New Performance, where her article "What to Think About What to Wear" will be available in 2022. She performs as a harpist specializing in improvisation with the LA-based Present Quartet. Her most recent recording, Unearthly Delights, was released on Innova. LeBaron lives in the greater Los Angeles area, and she teaches in the Composition and Experimental Sound Practices Program at CalArts.
Website

---
The Electric Voice


: Lecture/Performance with Nicholas Isherwood, bass-baritone
April 20, 2022, 4:30 pm • CPAC 119
Free and open to the public.
Pamela Madsen (USA): Now the Hour Bows Down/Tenebrae
Rodrigo Sigal (México): Micromégas
Luong Huệ Trinh (Vietnam): La lettre perdue
Jacopo Baboni Schilingi (Italia): Notturno
Sina Fallazadeh (Irán): Cantique de Métèque
Aleksandra Bilinska (Polonia): #2020 covid 1984 for Nicholas I.
Juan José Eslava (España): Cuerpo abierto
Workshop/Masterclass with the
CSUF New Music Ensemble
April 20, 2022, 7:30 pm • CPAC 119 
Free and open to the public.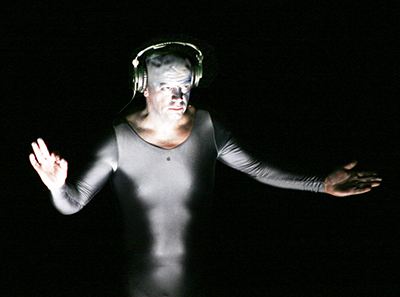 NICHOLAS ISHERWOOD, Bass-Baritone, has sung in the world's leading festivals (Salzburg, Aix, Festival d'Automne, Avignon, Almeida, Biennale di Venezia, Holland Festival, Munich Biennale, Wien Modern, Händel Festivals in Göttingen and Halle, Tanglewood, Ravinia, etc.) and opera houses (Royal Opera House, Berlin, Frankfurt, Stuttgart, Amsterdam, Lyon, Châtelet, Théatre des Champs Elysées, Rome, Torino, Genova, La Fenice, La Scala, etc.), working with conductors such as Joel Cohen, William Christie, Peter Eötvös, Gabriele Ferro, Nicholas McGegan, Paul McCreesh, Zubin Mehta, Kent Nagano, Helmuth Rilling, David Robertson. Isherwood has worked closely with composers such as Sylvano Bussotti, Elliott Carter, George Crumb. Hans Werner Henze, Mauricio Kagel, György Kurtág, Steve Lacy, Olivier Messiaen, Giacinto Scelsi and  Iannis Xenakis. Isherwood collaborated with Karlheinz Stockhausen for 23 years, singing numerous world premieres. An active pedagogue, he has taught master classes at schools such as the Paris Conservatoire, Musikhochschule Köln, Salzburg Mozarteum and Conservatorio Giuseppe Verdi and held positions at SUNY Buffalo, Notre Dame, Calarts and the Ecole Normale de Musique. His book Techniques of Singing, is published by Bärenreiter Verlag. Website
---
CSUF New Music Ensemble
Pamela Madsen and Eric Dries, directors
Mini-Opera Projects: COMING TOGETHER: TO THE EARTH and Rzewski's Coming Together
Created, composed and performed by CSUF New Music Ensemble Members
Wednesday, April 27, 2022, 8pm 
CPAC 119
Free and open to the public.
Group 1 Butterfly Genesis:
Lorna Katz, Director, voice
Xueying Li, violin
Pauline Hall, bass
Josiah Groot, piano
 
Group 2 The Migration:
Indigenous voices, relationship of humans to earth
Kevin Barba, Director, voice/composer
David Varela, electric jazz guitar
Israel Lizarraga, violin/electric violin
Group 3 The River:
Organisms Cellular Growth, Bird Song
Jessica Lewis, Director, cello
Tyler Kielb, Co-Director, piano
Ivan Parga-Renteria, guitar
Lucas Edwards, voice
 
Group 4 The Creation:
Bible stories, Climate Change
Kendrick Haskins, Director, percussion/drumset
Edgar Anguiano, electric guitar
Esther Risdale, electric bass
Julia Craft, voice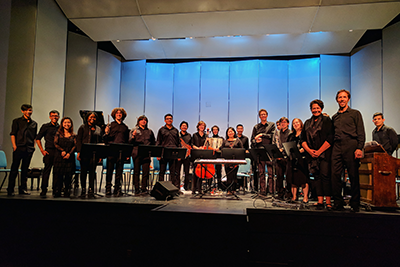 CSUF New Music Ensemble, under the direction of Dr. Pamela Madsen focuses on the instruction in the techniques of contemporary concert music, and preparation of small group performances of contemporary instrumental, vocal and electroacoustic chamber music literature from the Twentieth and Twenty-First Centuries. We study and perform a wide range of repertoire from the contemporary period: from, experimental, atonal, to extended tonal, minimalism, post-minimalism, post-modernism to multi-media collaboration, film music, deep listening and improvisational forms in an attempt to explore both the repertoire and performance practice in New Music. Students improve through rehearsal, learning new techniques and through engagement with guest composers and performers and practice strategies to develop critical evaluation of their own performances. Weekly rehearsal and coaching sessions are set up for each individual small chamber music group on a to be determined basis. At times, the chamber music group members themselves will be asked to create, arrange, or improvise scores, and engage in improvisatory practices.
---

University Symphony Orchestra & Symphonic Chorus
Kimo Furumoto, Robert Istad and Christopher Peterson, directors
Saturday, May 14, 3pm
Meng Concert Hall
Pamela Madsen: Oratorio for the Earth (World Premiere performance)
Tickets: $10 / $8 Titan price
All orders subject to a $3 processing fee
Buy Tickets

ORATORIO FOR THE EARTH is a multi-movement work by composer Pamela Madsen for orchestra, choir, ensembles, electronics and video created in collaboration with musicians Nicholas Isherwood, TwoSense: Ashley Bathgate, Lisa Moore, Brightwork New Music, pianists Amy Williams, Sarah Cahill, violinist Kate Stenberg, ModernMedieval, CSUF Symphony Orchestra, University Singers, and librettist/video artist Quintan Ana Wikswo.
It reflects upon the need for Deep Listening in the wilderness, social justice and the global ecology of self-consciousness; resonance of the human body with the earth, and the rivers and stars that connect us. This work focuses on the sound and setting of spoken text, field recordings from the environment, combined with instruments, electronics, video and sung text. The work captures the sonic landscape of the wilderness of the desert southwest, inspired by the vast connecting river ways of the world, informed by research on the utopian visions of Hans Christian Andersen's concept of science as Poetry's California,  weaving a narrative of concern for human rights, social justice, women, nature and threat of imminent world destruction. Themes are manifested through texts by Rilke, Sarah Teasdale, and Quintan Ana Wikswo, concerning marginalization of indigenous cultures and desecration of women and nature correlated with concerns for the destruction of the environment.