The Virtuoso Piano Series at Cal State Fullerton
Spring, 2019

ALESSANDRO DELJAVAN

Wednesday, February 13, 2019 at 8pm
Meng Concert Hall
Schubert: Two Scherzi D 593
Schubert: Sonata D 784
Schubert: Allegretto D 915
Bacri: Sonata no.2 op. 105
Chopin: Sonata op. 35
Admission Information:
Tickets: $10 / $8 Titan price
All orders subject to a $3 processing fee
---
Masterclass
Thursday, February 14, 2019 at 1PM
Meng Concert Hall • Free admission
Biography
Born of an Italian mother and Persian father, Alessandro Deljavan began learning to play piano before the age of two and gave his first performances at age three.
He has since performed around the world including in Austria, Belgium, China, Columbia, Cyprus, Denmark, France, Germany, India, Israel, Italy, Lithuania, South Korea, Poland, Russia, Slovakia, Sweden, Switzerland, and the United States.
Alessandro Deljavan has won top prizes in competitions including Concours musical de France (1st Prize, Paris, 1996), Hummel Competition (2nd Prize, Bratislava, 2005), Gina Bachauer Young Artist Competition (5th Prize, 2005), Cliburn Competition (John Giordano Discretionary Award, 2009), Isangyun Competition (2nd Prize, Tongyeong, South Korea, 2010), and Cliburn Competition (Raymond E. Buck Discretionary Award, 2013).
Alessandro has performed with orchestras such as the Mariinsky Theatre Orchestra (St. Petersburg, Russia), the Fort Worth Symphony Orchestra (Fort Worth, Texas, USA), the Orchestra Sinfonica di Milano Giuseppe Verdi (Milan, Italy), Orchestra Sinfonica Leopolis (Atri, Italy), Orchestra Haydn di Bolzano e Trento (tour in Italy & Slovakia), Israel Camerata Orchestra (Tel Aviv, Israel), Wu Han Philharmonic Orchestra (Wu Han, China), and the Lithuanian Chamber Orchestra (Vilnius, Lithuania), among others.
Alessandro Deljavan's Website

DANG THAI SON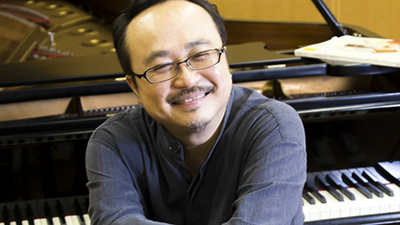 Friday, March 1, 2019 at 8pm
Meng Concert Hall
Debussy:   Six Preludes (from Préludes)
  Brouillards
  La porta del vino
  La danse de Puck  
  Les sons et les parfums tournent dans l'air du soir  
  Ondine
  Feux d'Artifice  

Chopin:   Three Waltzes
  A-flat major, Op. 69, No. 1 "L'Adieu"  
  F major, Op.34, No. 3 "Valse brillante"
  C-sharp minor, Op.64, No. 2

Chopin:   Rondo à la Mazur in F major, Op.5
Paderewski:   Four pieces
  Melodie, Op.16, No. 2
  Legend, Op.16, No. 1
  Nocturne, Op.16, No. 4
  Menuet Op.14, No. 1
Chopin:
  Ballade in G minor, Op. 23
  Bolero in C major, Op.19
  Scherzo no. 2 in B-flat minor, Op.31
Admission Information: 
Tickets: $10 / $8 Titan price  
All orders subject to a $3 processing fee
---
 Masterclass
Thursday, February 28, 2019 • 1PM
Meng Concert Hall • Free Admission
Biography
"A genuine musician" - Isaac Stern
An outstanding international musician of our time, Vietnamese - Canadian pianist Dang Thai Son was propelled to the forefront of the musical world in October 1980, when he was awarded the First Prize and Gold Medal at the Xth International Chopin Piano Competition in Warsaw. It was also the first time that a top international competition was won by an Asian pianist.
He began piano studies with his mother in Hanoi. Discovered by the Russian pianist Isaac Katz, who was on visit in Vietnam in 1974, he pursued his advanced training at the Moscow State Tchaikovsky Conservatory in Russia with Vladimir Natanson and Dmitry Bashkirov.
Since winning the Chopin Competition, his international career has taken him to over forty countries, into such world renowned halls as the Lincoln Center (New York), Barbican Center (London), Salle Pleyel (Paris), Herculessaal (Munich), Concertgebouw (Amsterdam), Opera House (Sydney), and Suntory Hall (Tokyo).
He has played with numerous world-class orchestras such as The Philharmonia Orchestra , BBC Philharmonic , City of Birmingham Symphony Orchestra, Orchestre de Paris, St-Petersburg Philharmonic, Orchestre Symphonique de Montreal , Czech Philharmonic, Staatskapelle Berlin, Dresden Philharmonic Oslo Philharmonic, Warsaw National Philharmonic, Prague Symphony, NHK Symphony, New Japan Philharmonic, Helsinki Philharmonic, Sydney Symphony, Hungarian State Symphony, Moscow Philharmonic, Russian National Symphony, as well as Virtuosi of Moscow, Sinfonia Varsovia, Vienna Chamber, Zurich Chamber, Royal Swedish Chamber Orchestras, and the Ensemble Orchestral de Paris. Also, he has appeared under the direction of Sir Neville Marriner, Vladimir Ashkenazy , Pinchas Zukerman, Mariss Jansons, Pavvo Jarvi, Ivan Fisher, Frans Br�ggen, Vladimir Spivakov, Dimitri Kitaenko, Sakari Oramo and John Nelson among others.
In the field of chamber music, he has performed with the Berlin Philharmonic Octet, the Smetana String Quartet, Barry Tuckwell, Tsuyoshi Tsutsumi, Pinchas Zukerman, Boris Belkin, Joseph Suk, Alexander Rudin, and he has played duo-piano with Andrei Gavrilov.

Dang Thai Son's Website

Antonio Pompa-Baldi

Friday, March 29, 2019 at 8pm
Meng Concert Hall
JN Hummel: Sonata in E flat Major, Op.13
Liszt: Ballade N. 2 in B minor
Grieg: Suite "Aus Holbergs Zeit"
Roberto Piana: Napoli (Fantasy on Neapolitan tunes)
Poulenc: Suite Napoli 
Admission Information:   
Tickets: $10 / $8 Titan price      
All orders subject to a $3 processing fee
---
Masterclass
Thursday, March 28, 2019 • 1PM
Meng Concert Hall • Free Admission
Biography
Born and raised in Foggia, Italy, Antonio Pompa-Baldi won the Cleveland International Piano Competition in 1999 and embarked on a career that continues to extend across five continents. A top prize winner at the 1998 Marguerite Long-Jacques Thibaud Competition of Paris, France, Antonio Pompa-Baldi also won a silver medal at the 2001 Van Cliburn International Piano Competition.
Mr. Pompa-Baldi appears regularly at the world's major concert venues including New York's Carnegie Hall, Paris' Salle Pleyel, Milan's Sala Verdi, Shanghai's Grand Theatre, and Boston's Symphony Hall. He performed in London, Tokyo, Seoul, Los Angeles, Philadelphia, Kiev, Auckland, Hong Kong, and Beijing, where he played a recital in the Forbidden City Concert Hall and conducted Master Classes at the China National Conservatory, being named Honorary Guest Professor of that institution. Pompa-Baldi has played with the Houston Symphony, Berliner Symphoniker, Orchestre Philharmonique de Radio France, Boston Pops, and Colorado Symphony, among many others. He has collaborated with great musicians and conductors such as Hans Graf, James Conlon, Louis Lane, Keith Lockhart, and Miguel Harth-Bedoya.
His extensive recording catalogue features 20 CDs and is constantly growing. Among his recordings, the entire piano repertoire of Grieg for Centaur Records in twelve CDs, a live recital of his award-winning Cliburn Competition performances on Harmonia Mundi, and "The Rascal and the Sparrow-Poulenc meets Piaf", piano arrangements of songs by Francis Poulenc and Edith Piaf on the Steinway Label. His CD, "After a reading of Liszt", is a tribute to Liszt recorded live in recital at the Stellenbosch Conservatory, and released by the South African label TwoPianists. For Centaur Records, he has also recorded an all-Schumann disc, an all-Rachmaninoff CD, as well as the Rheinberger Piano Sonatas. Pompa-Baldi is now recording the complete Hummel Piano Sonatas. The first two volumes are already available, with a third scheduled to be released in the near future.
In May 2014, Pompa-Baldi completed live performances of all the Rachmaninoff Concertos and Paganini Rhapsody with the Cape Town Philharmonic. In January 2015, he performed a recital at the First Lang Lang International Piano Festival in Shenzhen, China. In March 2015, he performed all the Beethoven Concertos in Fresno, CA, under the baton of Maestro Theodore Kuchar. Other recent notable engagements include the Cheyenne Symphony (Respighi Piano Concerto), Nova Scotia Symphony (Rachmaninoff Second and Third Piano Concertos), and recitals in Wenzhou and Xiamen (China), San Jose, CA, Ravello Festival, Todi International Music Masters festival, and the island of Sardinia, Italy.
Ning An, piano
Janet Sung, violin; Alberto Parrini, cello 

Friday, April 12, 2019 at 8pm
Meng Concert Hall
Ravel: Violin Sonata No. 2 in G major
Shostakovich: Cello Sonata No. 2 in d minor, Op. 40
Ravel: Piano Trio 
Admission Information:       
Tickets: $10 / $8 Titan price              
All orders subject to a $3 processing fee
Biographies
Pianist Ning An is that rare pianist – musician who "combines flawless technique and mastery of the instrument with an expressive power that is fueled by profound and insightful understanding" (New York Concert Review).  His top prizes from the Queen Elisabeth of Belgium, Cleveland International, William Kapell, and the National Chopin Piano competitions led to performances on three continents at prestigious venues such as Carnegie's Weill Recital Hall, Salle Verdi (Milan), and the Great Hall of the People (Beijing).  He has been invited to perform at numerous festivals including the International Chopin Festival in Duszinski, Poland, the Gina Bachauer Piano Festival in Salt Lake City, New Hampshire's Monadnock Music Festival, the Bourglinster Festival in Luxembourg, and the Interlaken Music Festival in Switzerland.  A passionate chamber musician as well as soloist, Mr. An has performed with such ensembles as the Ysaÿe, Daedalus, and Takács Quartets, and with such instrumentalists as James Buswell, Paul Neubauer, Andres Diaz and James Ehnes.
Violinist Janet Sung enjoys an acclaimed international career as a virtuoso soloist, recognized for her intense, exhilarating performances, and by her signature lustrous, burnished tone. Hailed by The Washington Post for her "riveting" playing and "exquisite tone", her playing possesses the rare blend of fierce intelligence, subtlety and brilliant virtuosity.
Since her orchestral debut with the Pittsburgh Symphony at age 9, she has performed with leading orchestras worldwide. Recent seasons has seen her as soloist with, among others, the Buffalo Philharmonic Orchestra, South Korea's Pusan Philharmonic Orchestra, Germany's Stelzen Festival Orchestra, Russia's Omsk Philharmonic Orchestra and National Symphonic Orchestra of Bashkortostan, the Aspen Festival Chamber Symphony and the Pro Arte Chamber Orchestra of Boston, as well as the orchestras of Boise, Bozeman, Corpus Christi, Delaware, Dubuque, Fargo-Moorhead, Hartford, Las Cruces, Springfield (Massachusetts and Ohio), Tacoma and Wyoming. This season, she will make her debut with the Goettinger Symphonie Orchester in Germany.
Janet Sung's Website

 Born in Italy, Alberto Parrini has been principal cellist of the Northeastern Pennsylvania Philharmonic since 2007 and a member of the American Symphony since 2010; he also performs regularly with the New York Philharmonic and Orpheus Chamber Orchestra.
In 2008, 2010 and 2011 he toured Japan as principal cellist of the New York Symphonic Ensemble. As a founding member of the Zukofsky Quartet he has given performances of the complete string quartets of Milton Babbitt in New York and Chicago. He performed throughout the U.S. with the American Chamber Players from 2004 to 2010, was the cellist of the St. Lawrence String Quartet in 2002-03 and spent one season as assistant principal cellist with the Richmond Symphony.