Under the direction of Dustin Barr - Director of Bands, the University Wind Symphony, acclaimed for its broad repertoire and excellence, performs contemporary music by important American composers such as Kraft, Grantham, Welcher, Husa, and Ticheli as well as the traditional concert band music of Sousa, Holst and Vaughn Williams. The ensemble is comprised of the finest wind studies majors in the School of Music, and has performed throughout the world. Tours have included  a performance in Lisbon sponsored by the US Embassy and culminated with a performance with one of Portugal's most highly regarded bands in the city of Alcochete;  the Jeju International Band Festival in South Korea, and the Japan Band Director's Association annual clinic at Nemo-No-Sato. The Wind Symphony has also performed numerous times for the College Band Directors National Association's (CBDNA) Regional Conference and the California Band Directors Annual Convention. During Dr. Barr's tenure, the University Wind Symphony made its first appearance at the 2019 CBDNA National Conference in Arizona.
The Symphonic Winds, conducted by Dustin Barr, performs the best of the standard wind band repertory, with an emphasis on American composers and significant newer works. Members of the Symphonic Winds are selected by audition and typically perform two to three times each semester, while focusing on musical growth and expression as individuals and as an ensemble.
Symphonic Winds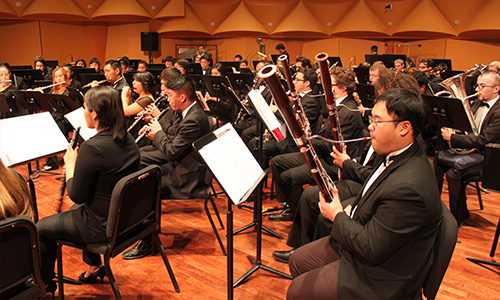 Music making is a life-long pursuit and the CSUF School of Music wants every student, regardless of their major, to have an opportunity to continue playing. The University Band (MUS 406U) is designed and structured with this in mind. The ensemble is primarily made up of non-music majors representing the entire campus community. Some music majors also enroll, often performing on a secondary instrument to strengthen their skills as future music educators. The ensemble is conducted by Dr. Dustin Barr and assisted by graduate conducting students, making it a unique learning opportunity for ensemble members and conductors alike.
The band meets on Wednesdays from 5:00-6:50pm. There are no auditions for membership, though a small audition may be required to determine part assignments. The time commitment outside of class consists of one or two concerts per semester.