Cello Choir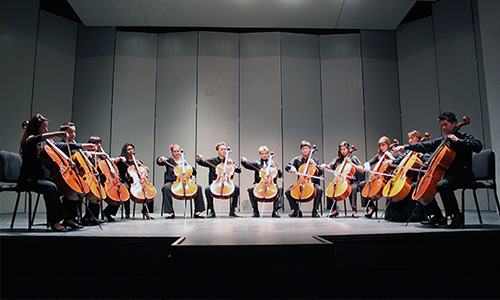 The CSUF Cello Choir, directed by Professor Bongshin Ko, has been in existence since Spring 2001. Its purpose is to introduce music students to the vast array of performance literature for cello ensemble and advance the performance practice of the cello choir. The group's activities offer a combination of rehearsals, sectionals, workshops/master classes and concerts with guest artists and conductors. Members of the Cello Choir are full-time CSUF students and students enrolled through Cal State Fullerton's Extended Education. High school students, age 16 and older, may audition for the ensemble.
Collegium Musicum, under the direction of Nicole Baker, is a student music ensemble specializing in the study and performance of instrumental and vocal music composed in the Middle Ages, Renaissance and Baroque periods-from about 1300 to about 1650, a period commonly referred to as Early Music. Each semester, students gain historical and practical knowledge of the music and performance practice of a particular period or genre of Early Music that is rehearsed and performed during the semester.
The ensemble uses replicas of historical instruments. Our full "consort" (ensemble) has included lute, 3 violas da gamba (a bowed stringed instrument in treble, tenor and bass sizes), sackbut (early trombone), recorders of various sizes (sopranino, soprano, alto, tenor, bass), krummhorn (a nasal-sounding woodwind instrument), harpsichord and tambourine. Students in the ensemble are music majors representing various areas of study; music history, composition, music education and performance. Though none of the student performers are specialists on these instruments, all have learned them through the ensemble.
Collegium Musicum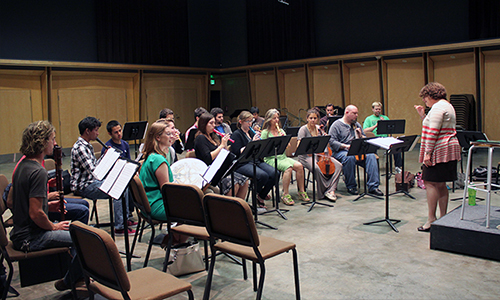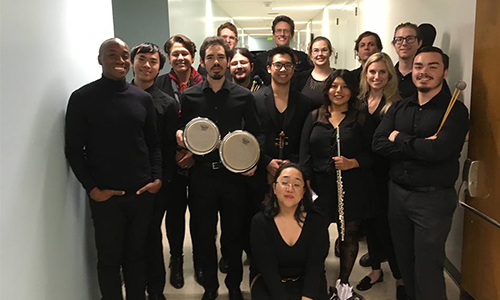 CSUF New Music Ensemble
CSUF New Music Ensemble, under the direction of Dr. Pamela Madsen focuses on the instruction in the techniques of contemporary concert music, and preparation of small group performances of contemporary instrumental, vocal and electroacoustic chamber music literature from the Twentieth and Twenty-First Centuries. We study and perform a wide range of repertoire from the contemporary period: from, experimental, atonal, to extended tonal, minimalism, post-minimalism, post-modernism to multi-media collaboration, film music, deep listening and improvisational forms in an attempt to explore both the repertoire and performance practice in New Music. Students improve through rehearsal, learning new techniques and through engagement with guest composers and performers and practice strategies to develop critical evaluation of their own performances. Weekly rehearsal and coaching sessions are set up for each individual small chamber music group on a to be determined basis. At times, the chamber music group members themselves will be asked to create, arrange, or improvise scores, and engage in improvisatory practices.
Flute Ensemble
The University Flute Ensemble was founded in 2000 to rehearse and perform music for the entire flute family, including piccolo, C flute, alto flute and bass flute. The group rehearses weekly and performs major concerts twice a year, playing music for the entire ensemble and breaking out into smaller quartets and trios. Mixed chamber music for flutes with guitar, clarinet and other instruments is offered as well. The ensemble, under the direction of Jean Ferrandis, periodically invites guest ensembles to perform with the Flute Ensemble. Recent guests have included the Los Angeles Flute Ensemble and the Orange County High School of the Arts Flute Ensemble. In addition, in 2006 the ensemble had a transcription of Mozart's Allegro con spirito from the Symphony No.35 (Haffner), K 385 dedicated to them, and it received its West Coast premiere in May, 2007 by the Flute Ensemble and alumni flutists.
Brass Chamber Ensemble
Clarinet Choir
Horn Ensemble
Keyboard Chamber Ensemble