Fullerton Jazz Orchestra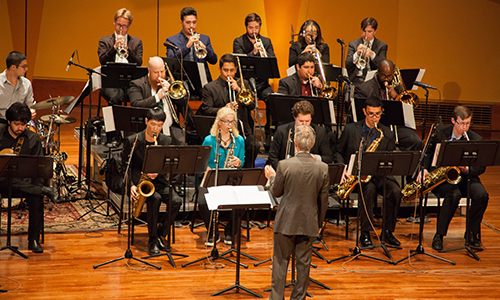 Fullerton Jazz Orchestra, directed by Bill Cunliffe, consistently receives high scores and acclaim at major west coast jazz festivals. They have been featured on a live radio broadcast across North America as part of the Playboy Jazz Festival, and have previously won the Pacific Coast Collegiate Jazz Festival competing against groups from 50 colleges and universities in seven western states. Jazz combos receive high marks as well, with CSUF's top combo winning the 2018 Reno College Jazz Festival. Fullerton Jazz Orchestra has performed, by invitation, at many leading Southern California festivals and events. They have produced five recordings including their latest, "Sabor!" which features vocalist Freda Payne. To purchase "Sabor!" email the School of Music.
Under the direction of Rodolfo Zuniga and Francisco Torres, the Fullerton Jazz Chamber Ensemble and Latin Ensemble focus on learning different styles within the Jazz genre including swing, bebop, Latin, bossa nova, and funk. Past performances have featured classic compositions from the big bands of Count Basie, Woody Herman, Thad Jones, and Tommy Dorsey. Contemporary arrangements of famous jazz tunes from composers like Dizzy Gillespie, Horace Silver, and Antonio Carlos Jobim are also included.
Each concert features a standard jazz composition that has been collaboratively arranged by the director and the students in the program. This tradition goes back to the early days of the big band era and is an important aspect of the Fullerton Jazz Big Band and Latin Ensemble curriculum.
Fullerton Jazz Chamber Ensemble and Latin Ensemble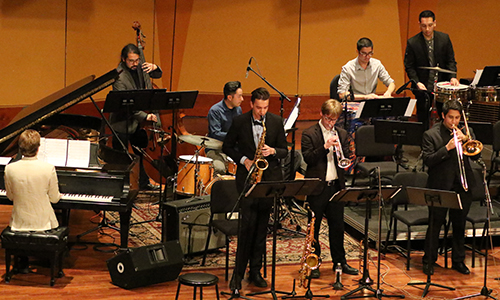 Jazz Singers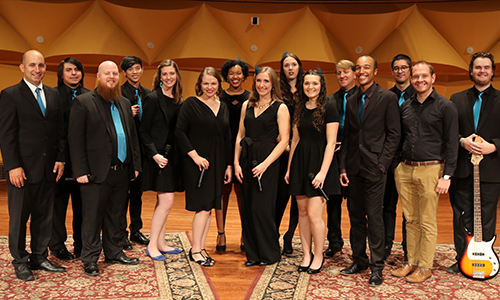 Directed by Bill Cunliffe, Francisco Torres, Paul Kreibich, Terry Gardner, Eric Dries, Damon Zick and Luther Hughes, the Jazz Small Groups are active in performing a wide variety of styles; from cutting edge contemporary styles of Maria Schneider and Jim McNeely to the classics of Count Basie and Duke Ellington.  They perform each semester on campus.
Directed by Andreas Preponis, the Jazz Singers are composed mainly of performance and choral education majors. They have performed at the Reno Jazz Festival and at Point Loma Nazarene University. In recent years, the ensemble has been proud to host and perform with the talented Four Freshmen, who have been making incredible music for over fifty years, and other guest artists. 
Jazz Small Groups