Bill Cunliffe
Professor of Music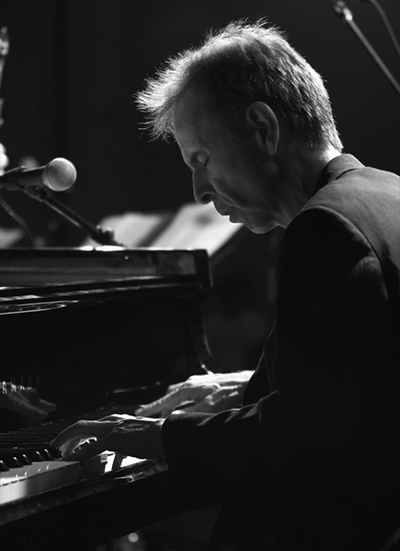 Contact
Location: CPAC 227B
Phone: (657) 278-8236
Email: bcunliffe@fullerton.edu
Website

Please contact the Music Office 
(657) 278-3511 for current office hours
Courses
213, Jazz Harmony & Analysis
406L, Jazz Ensemble I (Jazz Orchestra)
408J, Chamber Music: Jazz Combo
464, Jazz Improv III 
Cal State Fullerton Professor of Music Bill Cunliffe is a jazz pianist, composer, Grammy Award-winning arranger and record producer. He is known for his work in blending jazz with the classical and pop genres based on a deep knowledge of and a lively curiosity about musical styles. As a solo artist and bandleader, he has more than a dozen albums to his name, and wearing other hats, including as a sideman, he appears on numerous other recordings.

Recent performances in addition to his solo and group jazz gigs hint at Cunliffe's expansive musical playground: Before an audience of nearly 4,500, he led Cal State Fullerton's fundraising "Concert Under the Stars." He played piano-four-hands in a concert at Boston Court in Pasadena, Calif., with classical pianist and fellow CSUF faculty member Alison Edwards. He was guest artist with orchestras performing his arrangements of Gershwin's "Rhapsody in Blue" and Concerto in F, third movement, and his own trumpet concerto. He toured New Zealand in solo concerts and as a guest artist with the Rodger Fox Wellington Jazz Orchestra. He led CSUF's Fullerton Jazz Orchestra in his arrangements of Bach's Goldberg Variations, Mason Williams' "Classical Gas" and Jimi Hendrix's "Purple Haze."

Cunliffe grew up in Andover, Mass. He began piano lessons with his mother, Ruth, at the age of 8. It wasn't until he was 20, having been captivated by the music of Oscar Peterson, that he changed his focus from classical music to jazz. As an undergraduate at Duke University, he studied with jazz legend Mary Lou Williams, At the Eastman School of Music, he studied jazz piano with Bill Dobbins and arranging with Rayburn Wright. In 1989, Cunliffe won the Thelonious Monk International Piano Competition.

He began his career as pianist and arranger with the Buddy Rich Big Band and worked with Frank Sinatra, Joe Henderson, Freddie Hubbard, Benny Golson and James Moody. Later he toured and recorded with the Clayton Brothers and the Clayton-Hamilton Jazz Orchestra, drummer Joe La Barbera, trumpeter Terell Stafford and jazz flutist Holly Hofmann.

Currently, besides making solo and guest appearances and leading CSUF ensembles, Cunliffe performs with his trio; his own big band; his Latin band, Imaginación; and Trimotif, his classical/improvisational chamber ensemble. Recordings show his affinity for Latin rhythms ("Bill in Brazil," Imaginación," his concerto for trumpet and orchestra "fourth stream … La Banda," his three-movement work "Nostalgia in Corcovado") and pay homage to his musical heroes, including Bud Powell, Oscar Peterson, Oliver Nelson, Sergei Rachmaninoff and Paul Simon. Cunliffe also has nurtured an abiding interest in choral music, producing a recording of his jazz-inflected sacred works ("Transformation," 2008) with the choirs of All Saints Church in Pasadena, where he is composer-in-residence as well as a parishioner.

The Bill Cunliffe Trio released its CD "River Edge, New Jersey," in 2013. Other recent releases by Cunliffe include his Concerto for Tuba and Orchestra (2012), with tubist Jim Self and the Hollywood Ensemble, conducted by Cunliffe, and "That Time of Year" (2011), an album of solo improvisations on Christmas standards that was described as a "tour de force" in the Los Angeles Times.

Cunliffe also was co-producer, arranger, musical director and pianist on "Come Back to Me Love" (released in August), a jazz album by singer Freda Payne, renowned for her 1970 pop hit "Band of Gold." He produced the album "Sabor!" (October), the first published recording by the Cal State Fullerton Jazz Orchestra, Jazz Big Band, Latin Ensemble and Quarter 'Til sextet.

His most recent film project was the score for "On the Shoulders of Giants," Kareem Abdul-Jabbar's 2011 documentary about the legendary Harlem Rens basketball team of the 1930s. It received an NAACP Image Award for Best Documentary. For his soundtrack, Cunliffe received NAACP nominations for Outstanding Album and Outstanding Group or Duo Collaboration. 

Cunliffe's sheet-music books "Jazz Keyboard Toolbox" and "Jazz Inventions for Keyboard" (Alfred Music Publishing, 2000 and 2005, respectively) are standard jazz reference works. More recently, Alfred Music published his "Uniquely Familiar: Standards for Advanced Solo Piano" (2010) and "Uniquely Christmas" (2012), a book of transcriptions based on his CD "That Time of Year."

Cunliffe was awarded a Grammy for Best Instrumental Arrangement for 2009 for "West Side Story Medley," on the album "Resonance Big Band Plays Tribute to Oscar Peterson." His four other Grammy nominations include two for Best Instrumental Composition, for his piano concerto"Overture, Waltz and Rondo" (2012), which he performed with the Temple University Symphony Orchestra, and for "fourth stream … La Banda" (2010), written for trumpeter Terell Stafford and performed by him and the Temple orchestra.

The Los Angeles Jazz Society honored Cunliffe in 2010 with its Composer/Arranger Award. That year he was also named a Distinguished Faculty Member of the College of the Arts at Cal State Fullerton.

In addition to teaching full time at Cal State Fullerton's School of Music, Cunliffe is a longtime faculty member of the Skidmore Jazz Institute and the Vail Jazz Workshop.