Choral and Vocal Ensembles
University Singers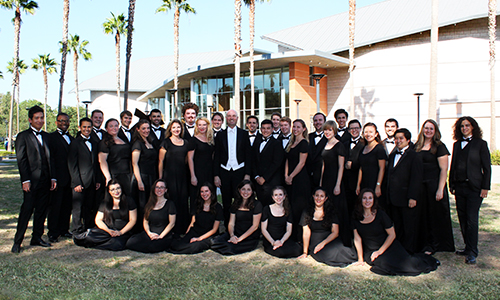 California State University, Fullerton's University Singers are directed by Dr. Robert Istad, and are recognized as one of the nation's premiere collegiate choral ensembles. The University Singers have performed throughout the world, and have sung with a variety of professional orchestras including the Hollywood Bowl Orchestra, the Pacific Symphony Orchestra, the Los Angeles Philharmonic Orchestra and the Boston Pops Esplanade Orchestra under the batons of conductors such as Carl St.Clair, John Mauceri, John Williams, and Keith Lockhart.  Internationally acclaimed for their exquisite musicianship, they have been invited to perform at conferences organized by the American Choral Directors Association and the Music Educators National Conference.  The ensemble's recent concert tours have included performances in Paris, Austria, Germany, Eastern Europe, Spain, and Australia in venues such as the Liszt Academy of Music in Budapest, Hungary, a performance for UNESCO in Pisa, Italy, and performances in the Ottobeuren and Eingen Festivals of Music in Germany.  
View the University Singers' performance at the national conference of the American Choral Directors Association in spring, 2013.
The California State University, Fullerton Concert Choir, directed by Christopher Peterson, is a 74-voice auditioned, mixed ensemble comprised primarily of students studying voice in the School of Music. The Concert Choir gives a number of performances in Southern California every year, and has also toured in Canada, Hawaii, Europe, and the United States. The Concert Choir performs a variety of accompanied and unaccompanied repertoire, and collaborates annually with the CSUF University Singers to present performances of choral-orchestral masterworks. They have joined the University Singers in performances with the Hollywood Bowl Orchestra and the Pacific Symphony Orchestra. For the past four years they have represented CSUF at the Pacific Southwest Intercollegiate Choral Association Festival of Choirs. A major mission of the Concert Choir is to sing and perform traditional as well as new choral music at the highest artistic levels, and to communicate to their audiences through compelling and musical performances.
CSUF Concert Choir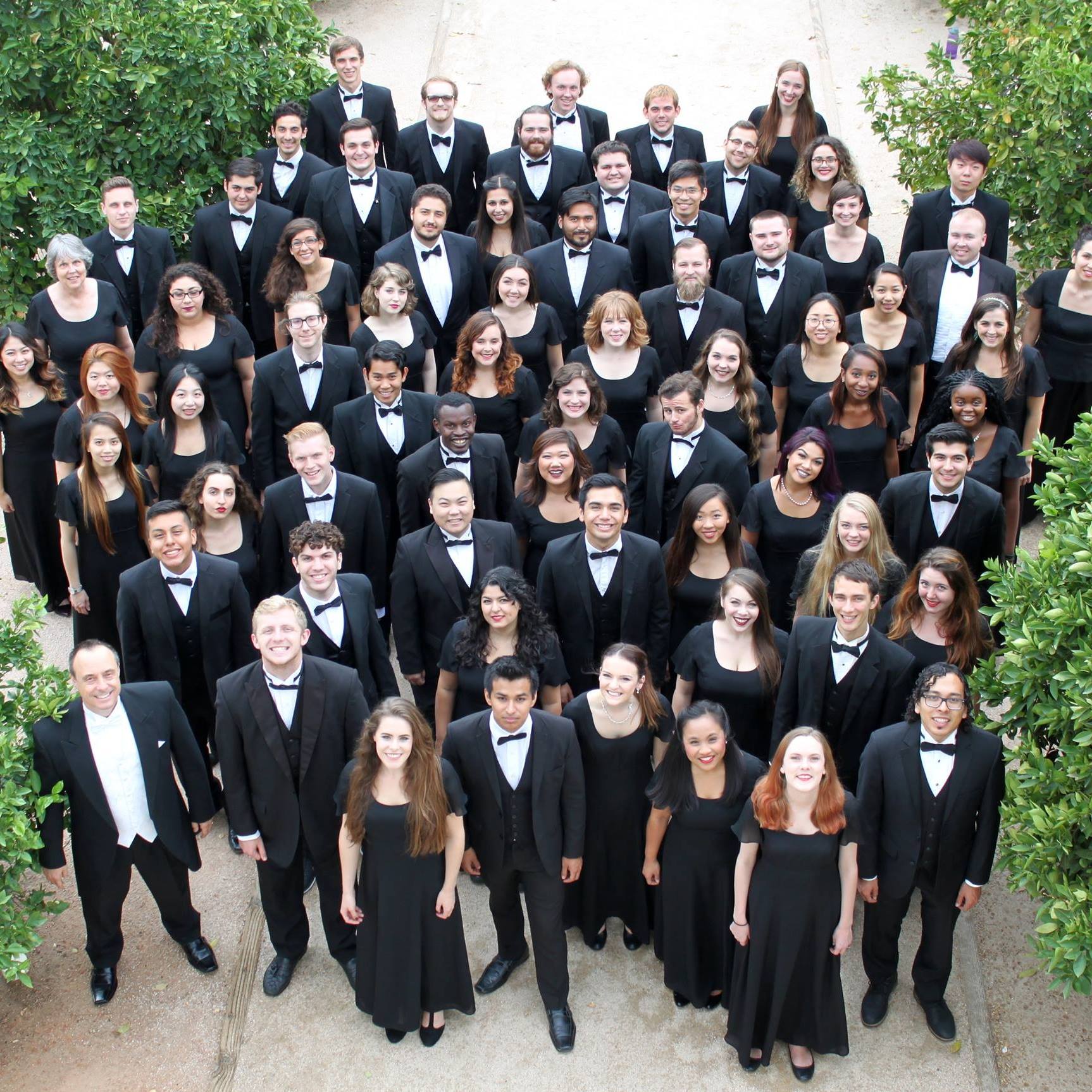 Women's Choir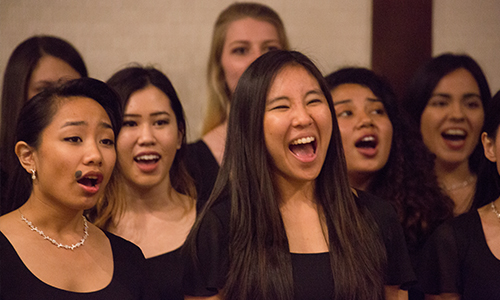 Under the direction of Dr. Robert Istad, the Women's Choir is a diverse group of talented women hailing from a number of different majors and departments on campus.  They have been selected to perform at the American Choral Directors Association's Western Division Convention in 1994 and again in 1998, and twice for the California Music Educators Association annual conferences in Ontario in 2000 and Pasadena in 2002. The choir performs a wide variety of repertoire representing all historical periods and styles.
The 50-voice CSUF Titan Men's Chorus is an energetic and entertaining ensemble made up of a variety of majors and departments on campus. The choir rehearses regularly and performs eclectic programs of men's music from virtually every historical period and genre. Under the directorship of Dr. Christopher Peterson, the Titan Men's Chorus presents at least four annual concerts on campus in CSUF's world-class performing auditorium, the 800-seat Meng Concert Hall. Additionally, the choir occasionally accepts performance opportunities off-campus in venues throughout Southern California
Titan Men's Chorus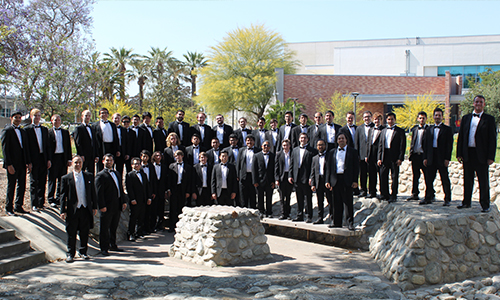 CSUF Opera Theatre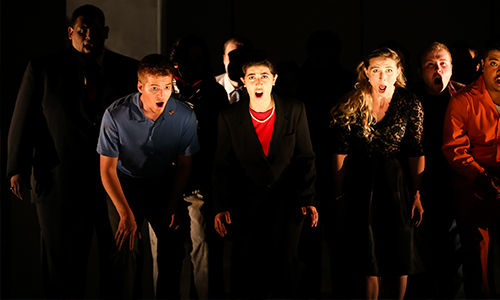 For over 15 years the CSUF Opera Theatre program has been directed by Professors Janet Smith and Mark Salters. They produce opera excerpts, one acts and full-length operas, both on campus, and at various venues in the Orange County and Los Angeles area.  Each spring the CSUF Opera Theatre presents a fully staged opera production with orchestra; past repertoire includes Hansel and Gretel, Albert Herring, The Elixir of Love, The Marriage of Figaro, Gianni Schicchi, Dialogues of the Carmelites, Street Scene, The Gondoliers, The Mikado & The Crucible.  The production in the fall is a program of various opera scenes and one act operas; Opera Theatre offers valuable musical, acting and staging opportunities, as well as behind-the-scenes experience in staging, costumes, props, make-up, set design and lighting.  Classes in acting as well as master classes with famous guest artists are also offered.
Many former Opera Theatre student participants have gone on to stellar performing careers including opera's preeminent dramatic soprano Deborah Voigt, soprano Joni Fukuda-Prado, mezzo-soprano Renée Tatum, tenor Charles Castronovo and bass-baritone Chris Job .